Yakking Around The World
David Taylor |
Published: 2000
Pages: 257
Author: Hughes, Simon
Publisher: Simon and Schuster
Rating: 3 stars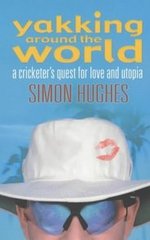 Best known today as The Analyst on Channel 5's cricket highlights – a job he previously held when Channel 4 provided live coverage – Simon Hughes was a jobbing medium-fast bowler for Middlesex and Durham between 1980 and 1993. At times he was the only non-international in the Middlesex team. In truth he was never quite good enough to join his esteemed team-mates in the England team, although had there been an organised programme of "A" tours in the early 1980s he would surely have been considered. In 1997 he unexpectedly won the William Hill sports book of the year award for A Lot of Hard Yakka, his memoirs of his career in county cricket, and he's since gone on to write books of a technical nature aimed at relative newcomers to the game.
This, as the title suggests, is his account of playing cricket overseas in the English winter. Not being selected for tours, and clearly unwilling to take other jobs betwen seasons (pre-season training at that time probably didn't start until mid-March, and he admits frankly that he always hated that time of year) Hughes would take up a placement wherever he could find one. As a young player – six months before his first-class debut, in fact – he flies to Sri Lanka, where he enjoys limited sucess on the field while finding the country beautiful and the people friendly, if unsophisticated. He subsequently goes on to play in each of the Test match playing countries, with two visits apiece to South Africa and New Zealand. He plays with and against some pretty good players (although Middlesex's 1980-81 tour of Zimbabwe is the only first-class cricket played), and in each venue tells some good stories of the characters encountered on and off the field.
One theme runs throughout the book – Hughes fancies himself as something of a ladies' man. He marks each destination with a scoring system based on the people, the beaches, the standard of cricket and the number of (female) catches. His early attempts at off-field scoring are predictably disastrous, although he later meets with some success on that front. Hughes doesn't come out of it very well though – even with a girlfriend back in England his eye is perpetually roving. At least he's honest about his shortcomings in the relationship stakes, as he is on his limitations as a player.
While I don't think this is as good as "Yakka" – of which I don't have a copy, having been lent it by a colleague – it is a diverting and often amusing read and features what is almost certainly the first, though maybe not the last, mention of Liz Hurley in a cricket book.