Who Only Cricket Know
Martin Chandler |
Published: 2021
Pages: 447
Author: Woodhouse, David
Publisher: Fairfield Books
Rating: 5 stars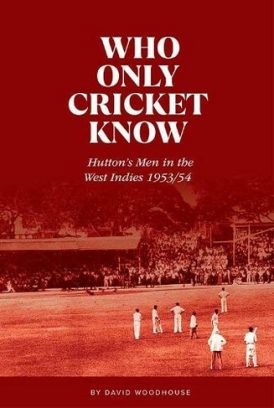 It was back in January 2018 that I was first able to announce that plans were afoot to publish this one, so its gestation period has been a long one. There can be no excuses then for Who Only Cricket Know being other than a fine book and, I am pleased to be able to report, none are required.
The subject matter of Who Only Cricket Know is England's tour of the Caribbean in 1953/54, a surprisingly neglected corner of the game's history. Described at the time as the game's second most controversial tour, after the 1932/33 'Bodyline' saga, that description remains entirely appropriate seven decades on.
England and West Indies had first played Test cricket a quarter of a century before the fateful trip. In England the full strength of the imperial master had always been sufficient to brush aside the West Indians, although in the two return contests in the Caribbean MCC had, in selecting 'experimental' sides, misjudged the strength of the opposition and failed to win either series there.
After the war another sub standard England side was sent to the Caribbean in 1947/48 and, despite on realising the size of their task sending master batsman Len Hutton out to bolster a tour party led by a 45 year old Gubby Allen, England still failed to win a single game at First Class level, and lost the four Test series 2-0.
That drubbing in the Caribbean hurt England, but a straightforward victory was still expected to be theirs at home in 1950. In the event expectations were confounded and although England won the first of the four Tests comfortably enough, they were brushed aside by their rampant visitors in each of the other three.
In 1953, Coronation Year, England turned a corner and won back the Ashes for the first time since 1932/33 and therefore, after those two recent defeats, there was a great deal resting on the outcome of the 53/54 series which was billed in some quarters as being for the World Championship of the game. Learning from past experience England took a full strength team this time and were led by Hutton, the first time a professional had ever led England overseas.
The two sides are full of famous names. West Indies had two of their greatest ever, George Headley and Garry Sobers, although they were respectively playing their last and first Tests. On the other side of the coin however men like the famous three Ws, Everton Weekes, Frank Worrell, and Clyde Walcott, were in their prime. The spin bowling heroes of 1950, Sonny Ramadhin and Alf Valentine were also still young men, and all the home side really lacked was a serious pace attack.
Back then the fast bowling strength was with England, and more particularly the young tyro Fred Trueman. Brian Statham was there to partner Trueman, and Hutton had three top class spinners at his disposal in Tony Lock, Jim Laker and Johnny Wardle. With Hutton himself and Denis Compton in the batting line up that part of the tourists' side looked strong as well.
But there was a lot more to the 1953/54 tour than a contest between world class cricketers. Hutton and his men found themselves straddling both the old world and the new. They were at times entertained royally by the top echelons of West Indian society, long established families anxious to hang on to their old way of life in the Caribbean and keen for England to succeed. These were, after all, the days of empire.
The war had changed everything however, and for the Caribbean nations independence was only a decade away. At the same time the traditional inter island tensions continued, as indeed did those within the individual colonies amongst their various ethnic groupings. It was a situation that cried out for an experienced management team with considerable diplomacy skills. Unfortunately however England didn't have one, and that is a large part of the reason David Woodhouse has such a fascinating subject to study.
The story of the tour is told in three parts. The first looks at the background to the trip and ends with Hutton's side leaving for the Caribbean. Part two looks at the tour itself, both on and off the field. The series was an absorbing one and in itself is a tribute to Hutton. His side were comfortably beaten in the first two Tests before, with their captain leading from the front with innings of 169 and 205, England won two of the remaining three Tests on either side of a high scoring draw  in order to square the series. Hutton, at the eye of the storm all day and every day, was comfortably the leading batsman in the series finishing with a Bradmanesque average of 96.71.
There was incident aplenty on and off the field of play, and considerable offence was caused to some by the tourists' behaviour, sometimes with and sometimes without cause. Hutton's policy of not wanting his men to mix with the West Indies team did not help, nor did the standard of umpiring. Trueman in particular attracted complaints, so much so that he lost his tour bonus and, such was the size of the black mark against his name, he was not selected for a touring England side again for five years.
Like in 1933 the return of the side to England brought about something akin to an inquest, fully covered in the final section of Who Only Cricket Know. Once again a supposedly errant fast bowler declined to apologise and suffered the consequences. For Hutton there was more stress to come, although he did get to lead England to their famous victory in Australia in 1954/55. One man whose leadership ambitions were thwarted was Trevor Bailey. The amateur all-rounder was viewed as an almost Jardinian figure at Lord's, and did himself no favours by going into print about the West Indies tour if not in breach of contract then certainly in breach of expectation and the unwritten rules amateurs were expected to adhere to.
Naturally the Caribbean too was affected by the fall out from the tour and Woodhouse follows through the upheavals that the game in the West Indies saw afterwards which eventually, albeit not as swiftly as should have been the case, resulted in Frank Worrell's appointment as captain in 1960.
Bringing up the rear of this splendidly written and well illustrated book are the scorecards of the Tests, the tour statistics, a comprehensive bibliography and a very fine index. Woodhouse's writing shows great skill and he is an accomplished wordsmith who clearly has a sense of humour. Other than in his index he keeps that largely under wraps in writing about what was, of course, a distinctly serious business, but he lets it venture out occasionally in his narrative. I particularly enjoyed his description of Learie Constantine as an A-List one-day cricketer in an age when one-day cricket wasn't considered List A.
So Who Only Cricket Know is pretty much perfect? Well yes it is, is the answer to that one, although I do still have two grumbles. The first is that, in common with an increasing number of books, there is next to nothing about the author on the dust jacket. I am afraid that nothing more than supports Worcestershire but learnt his cricket in Hull simply doesn't cut it*.
My second complaint, and in many ways the more serious, is that with, by my arithmetic, three of the protagonists still with us (Ramadhin, Sobers and Bruce Pairaudeau), a book of this quality really should additionally be available in a leatherbound limited edition signed by all three survivors and Woodhouse, with marbled endpapers, all edges gilt, a designer slip case and, in the manner of Wilfred Rhodes: The Triumphal Arch, a DVD of Trevor Bailey's cine film footage. I'll get my coat ……
*You can however learn a good deal more about Woodhouse, and Who Only Cricket Know, by listening to his appearance on Oborne and Heller on Cricket, one of the best of the many cricketing podcasts that currently circulate in cyberspace.