White on Green
Martin Chandler |
Published: 2016
Pages: 354
Author: Oborne, Peter and Heller, Richard
Publisher: Simon and Schuster
Rating: 4 stars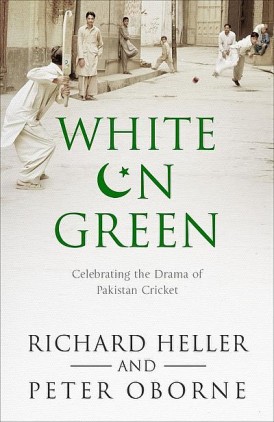 I was very young when I first learned that the highest individual score in the history of the First Class game was Hanif Mohammad's 499, scored in 1958/59. There was however then a problem, in that my father's incomplete run of Wisden did not include the 1960 edition, so I could find out little more.
My father must have felt sorry for me, and I remember sitting down with him a few days later while he told me all he knew about Hanif. I was fascinated to hear about the two brothers who also played Test cricket, Mushtaq who I had seen on the television with Hanif, and eldest brother Wazir, by then retired. I was told there was a younger brother, Sadiq, who wasn't then capped but soon was and went on to play more than 40 Tests. Finally I heard about the last brother, Raees. My father couldn't tell me much about him, other than that he was older than Hanif, and wasn't going to make it a quintet of Test players.
It would be wrong to say that a burning desire to find out more about Raees Mohammad thereafter dominated my life, but I was always curious. In time I learnt that he had been a very good cricketer, and got as close as being twelfth man to joining his brothers as Test players, but mentions of him were always incidental to the achievements of his brothers. Until White on Green that is. There is a superb chapter on Raees. It closes with a reference to the meticulous way in which the 82 year old prepared for his interview – apparently it was the first time he had ever been spoken to by a cricket writer in his own right – I hope news of this review might reach him, and that he becomes aware that there is at least one Englishman who has always found him the most interesting of the famous brotherhood.
It is remarkable how many of the stories in White on Green chronicle their subjects suffering from unfair treatment from selectors, administrators or both. Given the status of his family it is perhaps surprising that Raees Mohammad was a victim of that. The only Anglo-Pakistani to have earned Test selection, and one of just four Christians to do so, Duncan Sharpe, was another as was Khalid 'Billy' Ibadulla, the first Pakistani to play county cricket. White on Green has chapters on both.
The majority of the stories in White on Green are biographical, and most well away from the mainstream. I never expected to learn the full story of Test cricket's second oldest debutant, 47 year old Miran Bux, or of Prince Aslam, who never played a Test but who I was aware was quite a character. Thanks to Oborne and Heller I know about both.
Not all the chapters are about individual cricketers however. On a lighter note there is an account of the greatest mismatch in the history of the First Class game. Railways were a decent enough side, but they fielded no internationals for the visit of Dera Ismail Khan in December 1964. All eleven of the visitors' side were debutants, and none ever played a second First Class match. Railways won the toss, batted and scored 910 before declaring with six wickets down. They then dismissed Dera Ismail Khan for 32 and 27 to win by an innings and 851. The story is fleshed out with the memories of two of the visitors, the tracking down of whom must have been a feat in itself.
There is an unexpected story about Pakistan's first Test captain, Abdul Hafeez Kardar, appearing on a Television quiz show in the USA in the late 1950s. Kardar's name crops up many times in other chapters, often in the context of how he treated some of the book's other subjects. I do hope that one or both of Oborne and Heller and their local connections are working on a biography of Kardar, as I find it difficult to believe that his 1987 autobiography presents anything close to a full picture of his life.
To those who have read Oborne's history of the game in Pakistan, Wounded Tiger the references to political and religious issues as well as cricketing ones will come as no surprise. It is in some ways unfortunate that those parts of the narrative are so frequently prefaced by the words 'To Western Eyes', and to some the authors will come across as being apologists for a flawed nation. Heller's chapter on the fundamentalist preacher SF Rehman, who won a single Test cap as a leg spinner in against West Indies in 1958 is the best example. Make no mistake it is fascinating and thought-provoking stuff, but also disturbing.
One chapter I would expect to receive particular criticism is that which comprises part of an interview with nuclear scientist AQ Khan. By the time I read Khan's thoughts on the game I had learnt something of the controversies that surround the man and his history. The book would certainly have benefitted from a balanced summary of Khan by way of an introduction to the interview. It may be that the remainder of the interview, which will be published elsewhere, will shed light on other areas of Khan's life but given that the one 'difficult' question asked of him here is brushed off with 'No comment, the question is irrelevant and out of context' I suspect not.
I presume a factor in why White on Green has appeared is that in writing Wounded Tiger Oborne had a surfeit of good material that he could not use. The decision to make the most of that was a wise one. Parts of the book will cause some ripples of controversy, but that in itself is no bad thing given that the world over, but perhaps more so in Pakistan, it is impossible to separate sport from life. White on Green is a most enjoyable book and, lest anything I have said might suggest otherwise, does not need its reader to have already read Wounded Tiger, although any who haven't will certainly want to as their next book.