War Minus The Shooting
Martin Chandler |
Published: 2021
Pages: 294
Author: Marqusee, Mike
Publisher: 81allout Publishing
Rating: 4 stars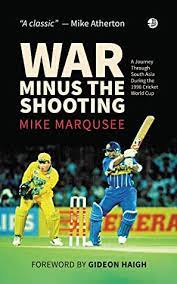 It is a quarter of a century now since the 1996 World Cup. The tournament was hosted jointly by India, Pakistan and Sri Lanka and produced what seemed at the time a huge upset when the Sri Lankans beat Australia in the final, played in Pakistan. Not only was the fact of the Sri Lankan victory a shock, so too was the ease with which it was achieved, ultimately by seven wickets with almost four overs to spare.
As World Cups do the 1996 edition spawned a large number of publications, although only three would, by my reckoning, fit the definition of a 'book', rather than 'souvenir'. The three concerned are this one, Robert Winder's Hell For Leather, and one of the diary style tour books to which Australian captain Steve Waugh lent his name. In the days when I used to try, admittedly only half-heartedly, to restrict myself to only one book on the same subject I bought Winder's.
Why did I choose Winder? If I am entirely honest I don't recall, but I doubt whether it was anything to do with the reviews that were written at the time, and in truth was probably simply because it was the first one that I saw. I did later get Waugh's effort when I picked up a job lot at an auction that contained several of his books, but that is one that has never got to the top of the pending pile.
As for War Minus The Shooting that is a book I had not read until a copy recently dropped through my door, its having been republished and repackaged by 81allout Publishing late last year. That is not to say I wasn't familiar with the author, the late Mike Marqusee. American, Marxist, Jewish but despite the former a genuine convert to the game, there are those who have compared Marqusee's work, particularly Anyone But England, favourably with that of CLR James. Our own Archie Mac was clearly not overly impressed with that one, but did acknowledge Marqusee's talent as a writer.
Not too long after it was published in 1994 I did read Anyone But England myself, and can see where the Mac was coming from, although I do not entirely agree with him. What makes Marqusee such an interesting writer on the game is his background and more particularly that he was American. A number of Americans before him have come to the UK and then written about the game, but not I fancy having developed the sort of love of cricket that Marqusee clearly had. That said what Marqusee did not do was buy into the perceived wisdom on the subject of the history of the game, its traditions and why they exist, and it is his rejection of those, generally for good reason, that can at times make for uncomfortable reading.
So Marqusee's take on cricket in the sub-continent was always going to ruffle a few feathers, and the title of his book underlines that. For it he went to the words of another unconventional, left leaning yet highly gifted writer, George Orwell who, in 1945, wrote; Serious sport has nothing to do with fair play. It is bound up with hatred, jealousy, boastfulness, disregard of all rules and sadistic pleasure in witnessing violence. In other words, it is war minus the shooting.
In the circumstances it will come as no surprise to learn that War Minus the Shooting is anything but a conventional cricket book, and indeed in many ways it is not a cricket book at all, that World Cup simply being the backdrop to Marqusee's account of his travels around the sub-continent and his views on the issues that he observes and uncovers. He is kinder to the sub-continent than he was to England, but still disturbed by some of what he found. In particular, although it was still more than a decade away, Marqusee sets the scene for how and why the IPL has developed.
Having now finally got around to reading War Minus the Shooting I do now understand just why the book is so revered and, from the foreword to this 2021 edition by Gideon Haigh, not just on the sub-continent. Siddhartha Vaidyanathan's efforts to acquire the rights to the book and republish it were certainly worthwhile and, for anyone wavering about whether to purchase, they will find that listening to his discussions with Osman Samiuddin and Mahesh Setharaman on this edition of the 81 Not Out podcast will make that decision an easy one.