Trophies and Tribulations: Forty Years of Kent Cricket
David Taylor |
Published: 2010
Pages: 287
Author: Ellis, Clive and Pennell, Mark
Publisher: Greenwich
Rating: 4 stars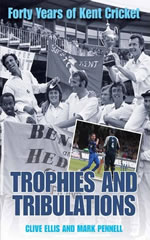 This book was of particular interest to me as, despite being a Surrey supporter of many years standing, I now live in Kent and regard them very much as my 'second' county. In fact even before I moved I was interested in Kent cricket simply because they happened to be one of the best teams in the country, particularly in one-day cricket, and typically supplied more than one of the England team. Four men of Kent lined up against the West Indies in 1980: Chris Tavare, Bob Woolmer, Alan Knott and Derek Underwood, and in the mid to late nineties the county produced several England bowlers such as Dean Headley, Martin McCague and Mark Ealham.
The book is written in four parts, including an extended introduction – the first three are by former Daily Telegraph reporter Clive Ellis taking us up to 1992, and the last 17 years are covered by Mark Pennell, late of the Kent Messenger. Pennell's name was by far the more familiar to me as he is well known throughout the county. In the first part Ellis takes us at breakneck speed from the origins of cricket in the county up to 1966, about midway through Colin Cowdrey's long tenure as captain. The middle two sections are subtitled 'Glory Days' and 'Wilderness Years' and deal, as you would expect, with the trophy-laden side of the late sixties and early seventies and the somewhat less successful teams that followed. One recurring theme from this part of the book, repeated to a lesser degree in the later years, is the number of players who left the county in unhappy circumstances. Every county team has its acrimonious departures of course but Kent seem to have had more than most. Tellingly, when Headley joined from Middlesex he became the first player since 1959 to join Kent from another county; more than 20 Kent players had migrated to other clubs in the meantime. The controversy caused by Kent's three England stars joining World Series Cricket in 1977 is also revisited, as Ellis tells how the club attempted to sack all three as well as dismissing captain Asif Iqbal.
Once Pennell takes over the style of the book changes dramatically, almost autobiographical in places. This is unsurprising as he was clearly close to the players during his time at the Messenger. At the beginning of Matthew Fleming's captaincy, for instance, he calls Pennell in and suggests: "Look Mark, there's no way you'll agree with everything I do on the cricket field, and there's little chance of me agreeing with everything you write in your paper. So let's agree to disagree now, shake hands on it and get on with our jobs." Pennell adds: "and we did." Such personal observations and recollections pepper this part of the book, among other things he becomes Carl Hooper's driver, but Pennell wisely recognises that the reader doesn't want his life story and sticks to relating the facts for the most part. Clearly though, he's as much supporter as reporter and his enthusiasm for Kent cricket comes across strongly.
Well illustrated and packed with quotes, some from players' books but mostly taken directly, this deserves to sell well beyond the Canterbury club shop and is highly recommended.