Tours and Tests
Archie Mac |
Published: 1940
Pages: 203
Author: Farnes, Ken
Publisher: R.T.S Lutterworth Press
Rating: 3 stars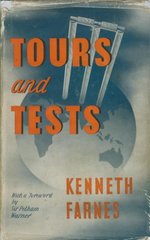 The year after Tours and Tests was published, Ken Farnes died in the Second World War, killed after the plane he was flying crashed. Farnes was 30 and as fast bowlers go at the peak of his powers. The fact you know Farnes dies so soon after he wrote the book makes you question how he spends his time and the things he takes pleasure in while on cricket tours around the world. The one thing that does come through in his writing, and in a period when ghost writers abound he seems to have written Tours and Tests himself, is his enjoyment of nature and love of adventure.
The book itself is broken up into three main parts; the first of which is autobiographical. Here Farnes sticks to the Jim Swanton mantra and is brief about his childhood and quickly moves onto his early adulthood. Like so many other cricketers before and after him, such as Alf Noble and Jeff Thomson, Farnes started his working life as a bank teller before boredom saw him change careers and return to university.
Cricket success quickly followed, although you will not know that from reading his book as Farnes is far too modest. Farnes was a rare example in the 1930s of an amateur fast bowler. His status may have helped him to secure tours to the West Indies, Australia and South Africa as well as a prominent part in the 1938 home Ashes series, though his 28.64 Test bowling average in a batsman friendly era is impressive enough.
The amount of autonomy granted to Farnes on a Test tour seems quite extraordinary, compared to the strict mollycoddled modern player with their ever growing support cast of expert everythings. In the West Indies, after he had injured his neck, Farnes sourced an osteopath. It turns out he was blind and hauled the author up with a noose to fix his neck. On another occasion while in Australia, Farnes was able to travel from Queensland to Melbourne via Sydney in a motor vehicle to attend a Test at the MCG. Farnes, and you imagine the team hierarchy, had no issue with having the driver, not a member of the tour party, driving throughout the night to make their destination on time.
Unfortunately, a combination of innate modesty, and far too much space dedicated to the scenery, reduce this book to the average. But at least Ken Farnes managed to put pen to paper before his all too short time was up.