Too Fond of Winning
Martin Chandler |
Published: 2018
Pages: 213
Author: Phillips, Barry
Publisher: Leisuresolve Publishing
Rating: 3.5 stars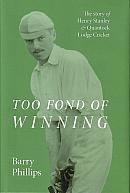 It is always interesting to know a little about an author, particularly when the person concerned is not a professional writer. Books traditionally carry a few sentences on the subject, usually somewhere on the jacket, which convey a brief summary. Too Fond of Winning comes with a particularly succinct self portrait by Barry Phillips.
In many ways that summary is enough. It explains Barry's interest in Somerset cricket and its past. More than twenty years ago he self-published a biography of 1930s all-rounder Arthur Wellard, the Ian Botham of his day. More recently Barry has also played a significant part in the first three volumes of the acclaimed series of books that represent a who's who of Somerset cricket, as researcher on part one, and co-author of parts two and three.
But just as you think that is all there comes Barry's preface, which I have to say I much enjoyed. He writes of a memorabilia auction back in 2000, and spotting in the catalogue an album containing a veritable treasure trove of photographs of early Somerset cricketers with a ludicrously low estimate. Sadly for Barry he wasn't the only one who spotted the potential bargain, and the price spiralled out of his reach. It is a familiar story for those of us with deeper collecting ambitions than pockets, although there was a happy ending as the successful bidder allowed Barry to make use of the album in his research for this book.
Turning to what Too Fond of Winning is all about the book is certainly not exclusively about cricket, and is as interesting on the many other subjects it touches on as it is on our great game. The early chapters tell the story of how Quantock Lodge, a grand residence in Somerset, came to be owned by the parents of Henry Stanley, the man who is at the centre of the story. A cricket ground at the property became home to Quantock Lodge Cricket Club, for whom many county players turned out over the years.
Stanley's father Edward was a long serving MP, and family wealth meant young Henry had an excellent education. He wasn't a great cricketer, but was good enough to play in 63 First Class matches. By all accounts a somewhat dour batsman he averaged only 14.96 in the First Class arena, but did once score a century, a particularly satisfying one against neighbours Gloucestershire in 1899. Still not 26 when he made that score he may have gone on to greater things, but tragically was killed in action in the Boer War the following year.
The family were hit hard by Henry's death and in many ways never recovered from it. Edward died in 1907, and Henry's mother thirteen years later. The pre-eminence of the Quantock Lodge Club waned, and the effect of death duties and the character weaknesses of Henry's younger brother Ted meant that the family's wealth and influence melted away.
Given the importance of the family they were frequently mentioned in the press and, given the co-operation Barry was able to obtain from descendants, there was no shortage of material out of which to fashion Too Fond of Winning, a title that comes from a comment of one who knew Henry well, the redoubtable double international Sammy Woods. The result is a well told and interesting story of Henry Stanley, his family and their way of life.
The book is a self-published one, a means of getting cricket literature on to the market that here at CricketWeb we thoroughly approve of. Usually self-publication means that, to put it kindly, the odd gremlin can creep in along the way. We usually feel obliged to draw attention to any identified shortcomings, but in a forgiving way, but there is absolutely no such criticism that can be levelled at Too Fond of Winning. It is a most handsome volume, from the slightly eerie and atmospheric dust jacket to the high quality paper that has been used. There are an excellent selection of photographs, a few in colour which, without exception, have been very well reproduced. There are some well chosen statistical appendices and a decent index. One thing that is absolutely certain is that at a very reasonable £15 per copy Barry Phillips has published the book for love rather than profit. Anyone wanting to buy Too Fond of Winning can contact Barry by email at bpwg@sky.com.