Tony Greig: Love, War and Cricket
Martin Chandler |
Published: 2014
Pages: 438
Author: Greig, Joyce and Greig, Mark
Publisher: Macmillan
Rating: 3.5 stars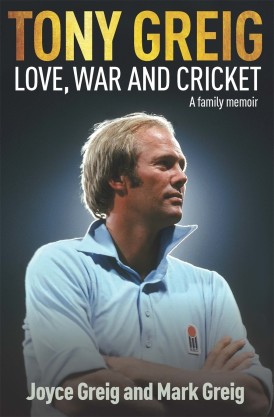 Tony Greig died at the end of 2012. A year before that David Tossell had published a very fine biography of the former England captain. Soon after Greig's death his former county, Sussex, produced a delightful tribute. I was therefore a little surprised that a few months after Greig's passing another book appeared, clearly a biography but, unusually, written by family members and, a little confusingly, using the same photograph on the cover as Tossell's book.
The fact that Tony Greig: Love, War and Cricket was initially published in Australia I could live with. It has however always irritated me that it never found a UK publisher, and that it took me seven years to finally track down a copy at a reasonable price. Since the days of WG Grace I cannot think of any other books about an England captain that have not been published in the UK. Perhaps for some the wounds that Greig's 1977 defection to World Series Cricket caused really have never healed.
In any event the authors here are Greig's mother, Joycie, and his first son, Mark. Is it possible to write objectively about a son and father? Surely not is the answer to that one, but there is no reason why a close family member should not write a biography and the power of the insights they can provide can, depending on the quality of the writing, far outweigh any detriment that a little bias might bring. As it is neither mother or son are blind to Greig's faults, and indeed in some ways on occasion very possibly overstate them.
In terms of its content Tony Greig: Love, War and Cricket is a little uneven. As far as I am aware neither author is a professional writer, and on that basis both deserve high praise for providing a well written and interesting account of Greig's life albeit for the most part at greater length than necessary . The early chapters of the book, written by Joycie, could have been briefer without losing any impact, and equally that part of the narrative that deals with the machinations of World Series Cricket and Greig's later career in the commentary box could equally have been dealt with in much shorter order. The book is not quite in the Waugh, Gilchrist or Ponting league, but is still in some ways a case of 'a book too long'. But then there are pages 99-158.
For this reviewer Greig was a hero. He was a wonderfully combative cricketer who, whilst he may on occasion have let his enthusiasm run away with him, was always ready to recognise his human frailties. His infamous run out of Alvin Kallicharran in the Caribbean in 1973/74 is an example of his impetuosity, and his signalling his own boundaries at Dennis Lillee in 1974/75 a little foolhardy to say the least, and doubtless not appreciated by his teammates any more than by Lillee. Greig will always be remembered for his crass 'grovel' comment in 1976, but at the same time he was content to consume a large helping of humble pie at the end of that series when acknowledging the West Indian supporters.
Those who watched Greig's all too short career play out will not forget it as long as they live. Mark Greig was just two when his father last played for England, so can have had no memories of his own of the old fella's playing days. Nonetheless in those fifty nine pages he has produced an outstanding summary. The account of Greig's Test career is shorn of all unnecessary detail, but is full of insights no doubt honed over years of conversation between father and son. That may not work quite so well for readers who are younger than fifty, but for those of us who fancied ourselves as being rebellious teenagers, and thought the England captain a man we could take a lead from, the account is perfectly paced.
To give an example of what I mean one of the more well worn Greig stories arises out of his treatment at the hands of a 21 year old Australian debutant in the Centenary Test of 1977. No one with an interest in that era does not know that David Hookes plundered five successive boundaries from Greig's bowling at the start of his innings. What I hadn't been aware of before reading Tony Greig: Love, War and Cricket, was the Greig to Hookes sledge that was delivered as the youngster came in, nor the counter-sledge that immediately preceded the onslaught.
To underline the intensely personal nature of the book it begins with a preface by younger brother and fellow England international Ian, and ends with the text of the Spirit of Cricket lecture that Greig gave in 2012, followed by a selection of tributes from others. There is a perfunctory statistical summary, although the book is not about numbers so, on this occasion, that does not really matter. There is a decent index and, as would be expected from a family book, a superb selection of photographs, and I was particularly pleased to see a full page image featuring that white Jaguar.