Thirty Years of Cricket in Crieff 1890
Martin Chandler |
Published: 2021
Pages: 44
Author: Miller, Richard (Editor)
Publisher: Private
Rating: 3 stars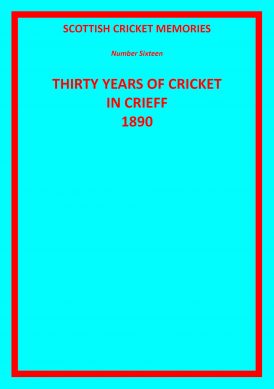 Scotland's early success in this years T20 World Cup reminded me that I still had a number of unread booklets on Scottish cricket history, so I picked one out at random to read. The title I picked was this one partly, I have to confess, because Crieff is not a place I had ever previously heard of. It turns out is a very small town located, more or less, in the centre of the country.
Cricket arrived fairly late in Crieff, just over thirty years before this history was penned. As with all the other booklets Richard Miller has been publishing this one is a collection of old newspaper articles gathered together, illustrated by photographs from his own collection and prefaced by a two page commentary which, in this case, is a particularly helpful one.
The most striking aspect of the 1890 articles is just how much cricket was played in the area, particularly so in light of Richard's confirmation that the last bastion of the game in Crieff disappeared in 2007. Personally I had hoped that the successes of three weeks ago might encourage a resurgence of interest in the game in places like Crieff. Sadly however I have to report that Richard's view is that that is unlikely to follow.
So is this an interesting history? It is not, as Richard acknowledges in his introduction, the most exciting of reads but given what we now know of cricketing participation in the area it is of some interest for that reason alone. In addition whilst the reporting lacks very much beyond the basic description of cricket matches the all but constant dominance of ball over bat is also noteworthy. There is also reference to an entertaining and unusual legal dispute, fully explained by Richard in his introduction.
Of the original articles by some distance the most enjoyable is the final one, containing brief profiles of nineteen men who played the game in Crieff in the 1890 season. In one sense these are fairly bland affairs as they do not go beyond looking at the prowess of the individual concerned on the field. That said however the writer pulls no punches. One man is described as the slogger of the eleven, and the batting of another as weak on the leg side ……. and inclined to 'poke' too much. In an era when fielding was not considered the most important of cricketing arts one wonders just how poor was the performance of the man described as fielding at times very badly. That player must surely have done something to antagonise the writer as he goes on to describe his batting as marked by carelessness.
Value is added to the profiles by them being extended by some biographical research carried out by Richard which provides an interesting breakdown of the occupations of the nineteen. Four were schoolmasters, four lawyers, two medical doctors and two (one of whom was a Baronet) are described as landed proprietors. Also present were a minister of religion, an engineer, a bank manager and a master mariner. The only two 'blue collar' men are a joiner and a printer/compositor.
As with all of Richard's other booklets this one will inevitably be of limited appeal, but then it should certainly be read by anyone who finds anything to arouse their curiosity in what I have described. Once again there are just 25 copies, obtainable from Richard who can be contacted by email at surreymember@btinternet.com