The Prince and The Doctor
Archie Mac |
Published: 2007
Pages: 260
Author: Sheppard, Peter
Publisher: Four O? Clock Press
Rating: 3 stars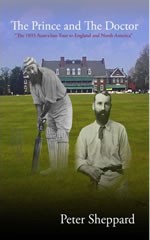 I bought this book because I knew that the 1893 Ashes side was one of the most unharmonious cricket teams to ever undertake an international tour. Firstly there was George Giffen, second at the time to only W.G. Grace as the worlds greatest all rounder, refusing to tour unless his brother a far inferior cricketer compared to George was also selected. Although this was to be vehemently denied by George in his autobiography released five years after this tour, it is considered almost a certainty being widely reported in the normally guarded press of the 1890s.
Secondly there was the selection of Arthur Coningham, one of the all time individualists in the history of cricket (I do not have the space to document it here, but if you do not know of AC, his is a rollicking story). In 1893 the Australian team was chosen by players who were certain selections, this method had proven very successful on a number of earlier tours, but this time the team selected had to be confirmed by the newly created Australian Cricket Council (ACC), who at the last moment thrust the selection of Coningham onto the selection panel.
Coningham the individualist was quick to tell George Giffen what he thought about brother Walter?s selection, this created unease, but more significant was the infighting between the players and an unpopular manager. Add in a dithering captain in ?Jack? Blackham and a team struggling on the field, and this was a recipe for a great book.
The above is from the memory of this reviewer and is only briefly referred to in The Prince and The Doctor. Instead after an initial introduction to the tour the author only provides scorecards and a brief description of each match. He does write these score cards in the present tense, which makes for a more interesting read then is otherwise usually achieved with this perfunctory method.
Where the book does succeed is in some wonderful descriptions of the world in 1893. Putting the players back into the context of their time, is usually not a high priority for cricket historians, but is for this reviewer the high point of this book.
The author does briefly mention the fallout when the Australians arrive back home, but again this was of great interest (well at least to me!) and is disappointingly covered.
All in all, this book kept my interest and apart from some annoying typos is well worth a read.