The Fast Men
David Taylor |
Published: 1975
Pages: 168
Author: Frith, David
Publisher: Van Nostrand Reinhold
Rating: 4 stars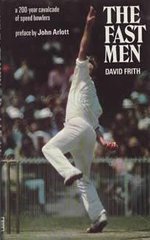 When I first got the cricket bug in the 1970s, my father was working in the newspaper business, which in London was still in Fleet Street (or in the case of his employers just up the road, at Holborn). As a sporting title the newspaper was often sent books for review purposes. Concerned as it was largely with matters of the turf, I don't think the Sporting Life often reviewed books on cricket, but they got them anyway, and so a cricket-mad 13-year-old acquired the makings of a cricket library. This is not David Frith's first book – I believe that was The Trailblazers*, an account of the England XI in Australia in 1861-62 – but it is, I believe, the first cricket book I ever read.
The Fast Men is, as you might expect from the title, a history of fast bowling. It was written in 1975; in a way it is a pity the writer didn't wait another 12 months or so, until after the West Indies had pulverised both India and England with an all-pace attack the following year. The book actually starts at the end of the story, with the Auckland Test match of February 1975. Ewan Chatfield, a New Zealand seam bowler making his debut and batting at number 11, was laid out by a short ball from England's Peter Lever, his life probably saved by the prompt attention of the tourists' physio, Bernard Thomas. As Frith put it, "the entire cricket world paused nervously and began a self-examination."
From that point we go back, way back, to the underarm bowlers of Hambledon and elsewhere. Frith is very good on these early practitioners, even though we have no way of knowing how quickly they bowled – the story of a ball going through a coat held by long-stop and killing a dog on the other side is surely aprocryphal. When we get to the roundarm bowlers of the early 19th century, the great Alfred Mynn among them, I imagine they often used a slinging action – I picture Mynn as a sort of medium-paced Malinga. It would have been easy to fast-forward to the likes of Spofforth, Kortright and Richardson, but Frith sketches these men out as fully as the surviving record allows.
Once we get to what we might consider modern cricket, that is to say after the First World War, we get quickly to the great pairings: Gregory and McDonald, Constantine and Martindale, and of course Larwood and Voce. Bodyline gets a chapter to itself, unsurprisingly. The writer's best work on this momentous series was, of course, a quarter of a century away – but as an introduction to the controversy the account, in a dozen or so pages here, is perfect.
Once again war intervenes, and wrecks careers as well as taking the lives of Ken Farnes and others. Two that managed distinguished careers after the war, although they would have appeared much earlier otherwise, were the Australian pair of Lindwall and Miller. A beautiful, detailed description of the former's bowling action is accompanied by a sequence of photos in the illustrated section. "Imitating Ray Lindwall gave exquisite pleasure, like arrowing through surf or ice-skating" he begins, and concludes: "in 1950 there were thousands of boys in Sydney practising this fantasy."
I think it was as well that my introduction to cricket writing came from this book. Cardus I would have found too poetic and flowery, Swanton magisterial and pompous. Frith is a natural story-teller, an odd thing to say of a non-fiction writer, but every series, every Test, every player's career, in a sense, is a story – and many are told memorably here. It is not a long book, but it didn't need to be. Nothing of importance has been omitted. It was, of course, inevitable with a book called "The Fast Men" that a companion title would emerge, and it duly did so a few years later. That is one for another day.
*In fact it wasn't. Mr Frith's first contribution to the game's bibliography was Runs in the Family, the autobiography of Surrey and England's John Edrich, which was published the day man first set foot on the moon – so a second edition is well overdue!