The Centurions
Archie Mac |
Published: 1983
Pages: 277
Author: Murphy, Patrick
Publisher: J M Dent & Sons Ltd
Rating: 4 stars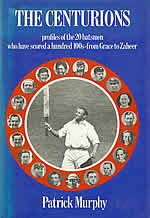 A simple idea for a book; take the 20 players to have scored a hundred first class centuries, and write a short biography on each one. It helps that almost all of the players to achieve this feat are legends of the game, including WG Grace, Don Bradman, Wally Hammond and Jack Hobbs.
The result is one of the very best cricket books written, the author Patrick Murphy has managed to convey the cricketer and his achievements both in the context of his era but also his place amongst the games changing parameters.
Murphy covers his subjects in the chorological order of their achievements, so we start with Grace and finish with Zaheer Abbas, the only thing that does not change throughout is the quality of the writing.
The only criticism of Patrick Murphy is his obvious reverence for some of the former legends, for example he refers to Hammonds near fatal illness has having occurred from the result of a mosquito bite. Murphy would have been aware that the illness was almost certainly the result of a STD.
The best portraits are those players that Murphy knows personally, the best two being Geoffrey Boycott and Glen Turner, he coveys both players attitude to batting and also admirably captures the personality traits that drive them to success.
After this book was released in 1983 it appeared a grand new cricket writer had arrived, this unfortunately never really eventuated, although he released a number of decent books.
These days Patrick Murphy tends to ghost or collaborate with contemporary cricketers; such as Devon Malcolm with You Guys Are History!
Since this book was released four further players have reached the magical figure of a hundred centuries; they are: Dennis Amiss, Graham Gooch, Graeme Hick, Viv Richards.
Still no sign of an updated version, if it does ever eventuate I can guarantee Mr Murphy of at least one sale.