The Bradman Museum's World of Cricket
Archie Mac |
Published: 2015
Pages: 198
Author: Coward, Mike
Publisher: Allen and Unwin
Rating: 4 stars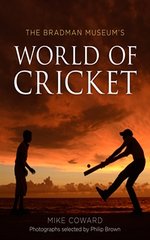 Just when you thought there were no more golden insights into the greatest batsman of them all, the Bradman Museum releases another nugget. Apparently during the 1960s and 1970s, Bradman delivered cricket talks, utilising slides, to selected audiences.
This book not only provides pictures of the slides used by Bradman, but includes the accompanying comments by The Don, which, unsurprisingly, are rather insightful.
The Bradman slides were an unexpected and impressive bonus. The real mandate of the book is to feature quality photographs which have been donated to the Bradman Museum. Unlike cricket writers; photographers are rarely known. Even cricket tragics could probably only name George Beldam and Patrick Eagar.
So it's quite interesting to learn about three of Australia's finest photographers and their journey. Of the three featured it is probably only the last; Phillip Brown who may be known to some, and that would, mostly likely be due to the fact that he has previously published his own cricket photography book.
The other two covered are Bruce Postle from the 1970s and 1980s and Vivian Jenkins from the 1980s and 1990s. All the photos are a testament to the talents of the cameramen, although perhaps there was a little more skill in the earlier efforts as they were limited by the cost of film. The judgement of when to 'click' was apparently an important skill for the photographers pre digital, which you discover in the short bios of the three artists.
The pen pics of the photographers are succinct and to the point with the majority of the text dedicated to the major events and eras snapped by the shutterbugs. We travel from the Ashes of 1970/71, through WSC to the Ashes of 2013.
The author, Mike Coward's text is first rate and ideally compliments the photos, however it is the photos and their reproduction qualities that make this book a quality read. The majority of the pictures reproduced will be unknown to most and transport the reader back to the eras covered. The book itself is superbly produced; printed on fine paper and has four colour printing throughout.
There is also a unique feature. A free app can be downloaded which enables the reader to access videos which relate to some featured photographs. Unfortunately, despite following the instructions I was unable to use this feature but hopefully others, perhaps more technological savvy, will be able to.
World of Cricket, is one of the finest pictorial cricket books produced and is a must for every cricket enthusiast.