Tea and No Sympathy
Archie Mac |
Published: 2017
Pages: 250
Author: Edwards, Dave Perry, Sam and Higgins, Ian
Publisher: Allen and Unwin
Rating: 4 stars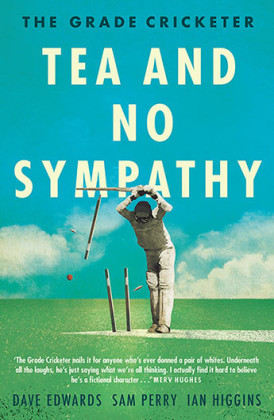 Written by Dave Edwards, Sam Perry and Ian Higgins Tea and No Sympathy is the sequel to the highly acclaimed The Grade Cricketer. The litmus test for any book sequel, or movie sequel for that matter, is whether it can stand alone. Somehow I never managed to peruse The Grade Cricketer, so can personally testify that this sequel has no trouble passing the test and easily stands alone.
Tea and No Sympathy starts with our hero and the incorrigible Nuggsy headed to a third grade cricket grand final in his 'bomb' 1994 Nissan Pulsar. On the way they stop off at McDonald's and uncharacteristically the always broke Nuggsy offers to shout. Our hero senses something incongruous but is still gobsmacked when Nuggsy asks him to help 'fix' the grand final.
After the match fixing scandal, there is a falling out with Nuggsy and our hero also falls out of love with cricket. He leaves the game and in juxtaposition with his lifestyle he loses that too. His partner moves overseas, he quits his job and is he's forced to move back in with his parents.
If the above events happened in most books you would be thinking tear jerker. In the hands of these authors though this is funny stuff as our hero stumbles from one disaster to another with cricket omnipresent throughout.
The cricket language and characters will be relevant to all who have played the game at any level. You will find yourself thinking back to your own glory days and wanting to swap stories with the authors about the characters you came across during your time in the game. The lexicon used throughout the book fits perfectly with the game; Chop King; rig; salad; champ. But be careful you may find yourself using these terms, they seep into your subconscious, into everyday life.
The other thing older cricketers in particular will relate to is the experience of continuing to play on well past the age when most contemporaries have given sport away as they realised they were never going to make cricket into their livelihood.
They say you know that you're getting old when police officers begin to look like kids. It can be the same in a cricket dressing room as your friends retire and are replaced by youths who you can't relate to. The authors nail the melancholy moment when our hero realises that he has played on for one season too many.
This book has just about everything a former cricketer could wish to remember, both good and bad, about playing the greatest game. These vary from the frustration of failure (mostly), to the elation of a 'Michelle' (rarely), or the exhilaration of a ton (only once or twice for most of us). There is also the mateship and the sledging which is now a permanent part of the game in Australia.
Perhaps the real quality of a sequel, when you haven't read the first instalment, is whether it inspires you to go back and read the first book. I have tracked down my copy of The Grade Cricketer and will review it in due time. However to be honest it's hard to imagine it can better the quality of Tea and No Sympathy which is highly recommended.
The Grade Cricketer: Tea and No Sympathy by Dave Edwards, Ian Higgins and Sam Perry is published by Allen & Unwin. $29.99.