Steps to Success
David Taylor |
Published: 2010
Pages: 163
Author: Dellor, Ralph
Publisher: Human Kinetics
Rating: 3.5 stars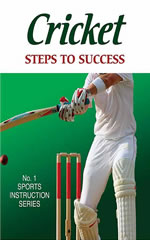 David's Effort
The name of Ralph Dellor has been familiar to me for most of my cricket-following life. Some 30 years ago he was a commentator when Radio London used to cover a whole Sunday League match – one involving one of the London teams. That sort of thing never happens now, but in the intervening years Dellor has written a number of books, generally of a reference or historical nature. And like his son Tim (who's also a BBC sports journalist) Dellor has been involved in coaching for many years, perhaps most interestingly with the Norwegian national team.
Hence this book, which seeks to explain the game of cricket and the basics of playing the game. At this stage I have to admit that it's far too late in the day for a 'how to play' book to be of any use to me. The instructional book I was given as a youngster was 'Keith Miller on Cricket' , first published in 1964 but just over a decade old at the time it came into my possession. While the great all-rounder certainly dispensed a few, ahem, nuggets of wisdom this one I think covers more of the bases – certainly it assumes no prior knowledge on the part of the reader.
As you would expect, there are chapters on bowling, batting and fielding – further subdivided into spin bowling, fast bowling and so on – each generously illustrated with drills at the end for the reader to attempt. I would say the book's target readership would be 11-18 year olds, but it would be useful to late starters as well. The pictures, mostly posed by young players, are fine – if a little static at times – but they don't break up the text too much, which is where plenty of good advice is to be found. Here is a word to the batsman cautioning against impatience:
Nothing is worse than getting out and then watching the next batsman dispatch a succession of long hops and half volleys. Had you treated the ball that dismissed you with a little more respect, you could have been the one taking advantage of those wayward deliveries.
As I said it's far too late for me to follow this advice now – my last match was in 1998 – but if I'd had that thought in mind before making an ugly swipe at the ball passing my off stump, I might not have spent as much of my playing days with the umpire's coat or scorebook. I would certainly recommend this to somone learning about the game – indeed I'll be passing my copy on to my young nephew, 13 and keen as mustard – although the book's large size may make it impractical to take along to matches or practice sessions.
Martin's Effort
The last time I took a long hard look at an instructional book was more years ago than I care to remember. In those days I had two or three well thumbed volumes that I used to voraciously read and reread in my, ultimately, futile attempts to become a decent cricketer. Looking back it is clear to me that I should have spent more time with a human coach than, as I did, with those books, a full length mirror and a younger brother who had limited interest in the game. The books told me what to do but not how to deal with the situations which inevitably arose when following their instructions simply didn't work. As a result of those experiences I have always been slow to recommend coaching texts but this one has given me cause to reconsider. Had it been available all those years ago, while I don't suppose my ambition to be England's answer to Garry Sobers would have been fulfilled, I certainly believe I might have been able to aspire to a level or two higher than the "D" Division of the Palace Shield (Blackpool) Competition that, as my cricketing life turned out, represented the pinnacle of my career.
Ralph Dellor is a man I know as a broadcaster, although he is clearly an accomplished coach as well. In truth his book isn't so dissimilar from those I remember but it is more logically set out and, importantly, doesn't make the assumption that, by way of example, just because it explains how to bowl a leg cutter, that every reader will go out to a net after putting the book down and instantly be a latterday Alec Bedser. The drawings and pictures, in combination with the straightforward prose do help to give guidance as to how to overcome problems and the book is full of suggestions as to how best for the reader to practice in his or her attempts to master the game's many and varied skills.
As it is too late for me to derive much benefit from the book I haven't really attempted much of what it advises, in fact to be honest I have managed to resist the temptation to go near either a net or a full length mirror, but I did dwell, as I always do on those occasions when I pick up an instructional book, on the section on wrist spin. Until, at the age of 13, I lost my leg break, wrist spin was the one part of the game I had taken to. I could turn my stock delivery away from the right hander and with the help of, note for once no book involved, the wicketkeeper of the Lancashire womens team, I learnt to bowl the googly and a top spinner as well. Heck I even knew how to bowl a flipper, although I never got remotely close to mastering that particular variation. Against that background I can say with a small amount of authority that you often read some pretty poor stuff on the subject of wrist spin. Not so here – every word of Dellor's book is sensible and to the point. The difficulties of the dark art are explained, as are the rewards, but in a straightforward way that does much to demystify the subject for anyone who has spent too much time listening to Shane Warne talking about his latest secret weapon.
All things considered this book has gone part of the way to changing my mind about instructional books. Personal experience still means that I would advise any young cricketer to spend every moment they can in a net with a qualified coach rather than with their nose buried in this, but it is a useful adjunct to that and is therefore recommended, albeit cautiously.