Second Innings
Archie Mac |
Published: 2021
Pages: 190
Author: Nicholls, Barry
Publisher: Fremantle Press
Rating: 4 stars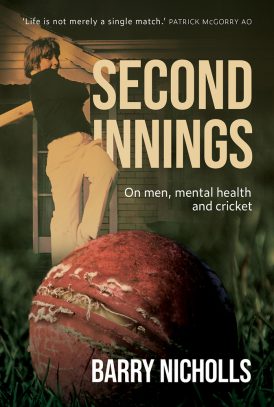 I pondered what word to use to best describe this book. In the end I decided on the unscholarly word; raw.
From the very start, in the prologue no less, Barry Nicholls pulls no punches as he discusses his thoughts of scoping out trees as he drives to work. The image this conjures was the twisted wreck of AFL personality Danny 'Spud' Frawley's car after he deliberately drove into a tree in 2019.
The book itself is a bit like the movie Pulp Fiction, in that in jumps around from current to past events. So we have the young Barry and his interactions with his family before joining him in more modern times with his own children, while he deals with regular suicidal ideations.   
Nicholls regularly swaps from one timeline to another during chapters. The writing is of such a high standard it's always clear which timeline is being discussed.
The interactions between Nicholls and his father are perhaps the most salient in the book, with those with some of his partners and also his mother not far behind when it comes to understanding the struggles of men with communication. 
Nicholls love of cricket is always referenced during the book, and appears to be the one thing he can always turn to. Whether that's his own playing, watching the Tests on TV or reading about the game, the author clings to cricket as his one relatable structured constant.
The author demonstrates a fine memory for the little things that occurred in the 1970s. The time it took for the TV to come to life before you could see the picture, or the judgement on those who lived with their chosen partner before marriage – living in sin as it was referred to in the '70s.
We learn that it was not an ideal childhood for Nicholls with his parents engaged in regular verbal arguments and one of his elder brothers having his own mental health difficulties. His brother's illness resulted in a number of suicide attempts and occasional persecutory delusional thoughts.
There are some gaps in both his childhood story, especially when he reaches adolescence, and also as an adult. This appears deliberate although you are still left wondering. Also the lack of pictures was noticeable as you wonder what his family members look like, although again this may be deliberate. 
It was interesting to read that Nicholls was writing The Establishment Boys while he was struggling with his mental health. He writes in Second Innings, that he was able to still focus on work despite the dark and compulsive thoughts he was besieged with. Having just read The Establishment Boys, the thought never occurred to me that Nicholls was anything but on top of his writing game. Eventually, however, Nicholls succumbs to the stress of his struggles and takes leave from work.
This is probably not the type of book that I am usually drawn to. I really only gave it a go due to having been recently so impressed with The Establishment Boys. I am so glad I did, a great read and certainly not only for the cricket lover. In fact this book should be read by all men; you will definitely relate to and appreciate the message that Nicholls is lovingly conveying. 
RRP is AU 24.99, NZ 30.00 and US 17.95.