Schooled in Cricket: The Johnny Lawrence Story
Martin Chandler |
Published: 2020
Pages: 243
Author: Bindman, Steve
Publisher: ACS
Rating: 3.5 stars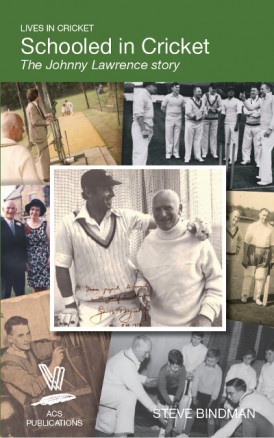 The progress of the ACS Lives in Cricket series has slowed of late, but it is still in good health and with this life of Johnny Lawrence moves on to its 52nd book. In common with many of the subjects who have been covered Lawrence's is far from a household name, and indeed will be unfamiliar to many.
So what is the story here? Lawrence was a Yorkshireman and might have played from his native county before World War Two had there not been such strength in depth available to the White Rose. As it was a single second eleven game was his lot, and Lawrence's pre-war professional cricket was played in the leagues.
Eventually the county game did beckon however and for ten summers after the war Lawrence played for Somerset. He was an all-rounder whose bowling was perhaps his stronger suit, and certainly the more interesting. He was an extremely slow leg spinner who could extract turn from even the most benign of wickets and, that sort of bowler never having been considered entirely trustworthy in Yorkshire, perhaps explains the county's reluctance to sign him despite his claims being championed by men like Herbert Sutcliffe and George Hirst.
Given the publisher's raison d'etre a startling omission from the book is any sort of statistical summary of Lawrence's career, but were there one it would show that he got his 1,000 runs for the season three times, and 100 wickets twice, although there was no double, his best shot at that being 19 runs short of that achievement in 1950.
Outside cricket Lawrence began his life as a carpenter, and was clearly a practical man as amongst other achievements he built pipe organs. Another illustration of his talents was his buying himself an old double decker bus that he converted into a caravan and which was then used as, generally in the car park at Taunton cricket ground, a home for Lawrence and his family during the cricket season.
In the winters Lawrence would return to his permanent home in Yorkshire where he established and ran his own cricket school. Quite how he managed to run indoor nets in a building who's summer use was as a greenhouse is a story with an interesting explanation.
Once retired from the First Class game Lawrence continued as a coach and a league pro and he also played Minor Counties cricket for Lincolnshire. His last summer as a pro was for Honley in the Huddersfield League in 1973. In fact he might have carried on even then but for some off field issues – 119 wickets at 10.86 to end up fourth in the averages was not bad for a 62 year old.
Despite no longer being paid to play Lawrence continued to play as an amateurAs well as continuing to play as an amateur Lawrence made a major contribution to Yorkshire cricket as a coach and many of the county's leading players had cause to be grateful to him not least amongst them Sir Geoffrey Boycott, who contributes a generous foreword.
The book itself is one of the longest in the Lives in Cricket series but, despite Lawrence's relatively unspectacular First Class career, his life is sufficiently interesting that the narrative never drags. Author Bindman is to be congratulated as well on the depths of his research and the co-operation of Lawrence's family have also assisted in presenting a full picture of the man, as have the many and varied tributes that have been secured from those men who, like Boycott, went on to achieve considerable success in the game thanks to Lawrence.
There is perhaps one disappointment at an issue missed, albeit I dare say that Bindman would say that he deals with it as fully as is necessary insofar as Lawrence himself was concerned and that the wider issue is, given the constraints of space, one for another writer and another time. Lawrence was a committed methodist and, like many of that ilk, was a conscientious objector as far as his call up for World War Two was concerned and able to convince the relevant tribunal that he was genuinely so. Thus released from military service I was left wondering how Lawrence, thereby free to pursue his professional career in the leagues, was reacted to by the amateurs he played with and against.
But perhaps the mere fact that Bindman got me thinking outside what he had written is simply further testament to the quality of his work. I have to say that I did much enjoy reading Schooled in Cricket: The Johnny Lawrence Story, and although Bindman's style of writing, with some lengthy sentences and minimal use of commas, took me a little by surprise once I got used to it it was fine. As an added bonus Bindman has managed to lay his hands on an excellent set of photographs, many presumably from the family, which help a great deal in bringing his story to life.