Sam Morris Cricket's Capital All-Rounder
Archie Mac |
Published: 2009
Pages: 95
Author: Woodward, Ian
Publisher: Woodward Pty Ltd
Rating: 3.5 stars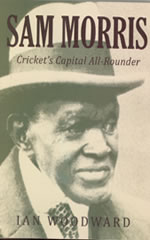 Self published books can be hit and miss affairs.This one, fortunately, is for the most part a resounding hit. The only real miss is an annoying habit of the author to regularly slip in the phrase "of course". This can be particularly grating especially when the author is describing an event with which the reader is totally unfamiliar.
Of course the above is a trivial matter and may have gone unnoticed if not for an over officious reviewer.
At 95 pages the book does not overstay its welcome, but still for a player who only earned one Test cap it is a comprehensive biography full of delightful discoveries such as the subject not being aware he was a Test cricketer until 40 years after the event.
According to the author, Sam, who played a Test in 1885 after a virtual new Australian side was selected following a dispute involving gate takings, was not cognisant of his Test cap until informed during a discussion with former team-mates during a Test match in 1924-25.
By then Sam Morris was blind having lost his sight in 1908 at the age of 53. Unable to work Sam was supported by friends and handouts from the Victorian Cricket Association (VCA) and the South Melbourne Cricket Club (SMCC). He also had the misfortune of losing his first wife at the age of 33 and his second wife at the age of 45.
Sam Morris was originally thought to be the first indigenous cricketer to represent Australia until it was discovered he was of West Indian decent, the confusion possibly being caused by Sam being born in Tasmania.
Woodward does not mention any real racism being directed towards Morris because of his skin colour, save for some of the terminology of the Melbourne based newspaper reporters such as referring to Sam as "darkie", however there does not seem to have been any deliberate offence intended. With one of the most famous writers of the period "Felix" (Tom Horan) being a prominent supporter of Morris.
Sam seemingly was liked by everyone he met in and out of cricket and perhaps his friendly disposition contributed to him not being involved in any direct incidents of racism, although it would be naive to assume a black man of the period would not have experienced some sort of discrimination, especially when other contemporaries such as Jack Marsh were the victims of racism.
After reading this biography of Sam Morris it becomes apparent he was a genuine all-rounder being not only a quality batsman and bowler, but as well a talented enough wicket keeper to receive praise from Australia's first great wicket keeper Jack Blackham. Sam was also one of the best groundsman in Victoria with the grounds he prepared receiving positive reviews from Felix and touring English elevens.
I really enjoyed this book and learnt a lot about the first West Indian to play Test cricket; recommended by the Mac.