Ralph Whitehead: Double Sensation in a Single Day
Martin Chandler |
Published: 2019
Pages: 36
Author: Tebay, Martin
Publisher: Red Rose Books
Rating: 3.5 stars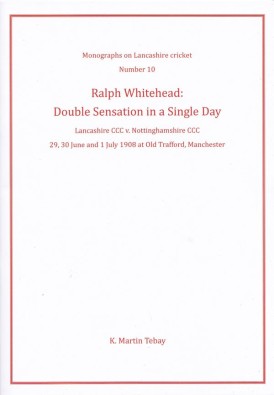 Ralph Whitehead played for Lancashire for the seven seasons before the Great War, so at the tail end of the Golden Age. He was an all rounder, never one good enough to do the double, but he has a reasonable overall record and, to set him apart, enjoyed perhaps the most eventful of all First Class debuts.
Whitehead made his entrance at Old Trafford in late June of 1908 against a strong Nottinghamshire side and his right arm medium fast deliveries brought him three wickets in the visitors first innings of 177. It was a total that seemed a useful one when, at 117-6, Whitehead made his way to the wicket to join his captain, AH Hornby. In fact however the pair led a recovery, and when the last Lancashire wicket fell the home side had a lead of 175 and Whitehead was unbeaten on 131. He was the first Lancastrian to score a century on debut since Archie MacLaren in 1890. He would remain the only man to do so in the twentieth century.
As Notts set about clearing their arrears it was then Whitehead's bowling that came to the fore, although not in a way that he would have enjoyed as he was no balled for throwing. Perhaps unsurprisingly he was soon taken out of the attack. The third day saw Whitehead being called again in a brief bowling spell as Notts made a much better fist of their second innings and set their hosts a target of 199. In the end Lancashire got there for the loss of seven wickets. Whitehead did not have the satisfaction of scoring the winning run, although he was at the crease, unbeaten on five when Hornby did the honours.
The first 26 pages of Ralph Whitehead: Double Sensation in a Single Day are taken up with a short introduction followed by an account of the match which dwells at length on contemporary reports of the no balling incident. All commentators seem to be supportive of the bowler who, it has to be said, never had to put up with the same indignity again despite bowling regularly in each of the next  six seasons. It is a curious episode and the history of 'throwing' will hopefully detain a future researcher at some length. The last study, as far as the English game is concerned, appeared from the pen of Ian Peebles in 1968. Interestingly, although sadly without quoting a source, Peebles referred to Whitehead's faster delivery causing the problem, an explanation that seems not to have been put forward in any of the reports Tebay discovered. Peebles' book also notes, without claiming to have produced an exhaustive list, that it would be 1952 before another English bowler, Tony Lock, would be called in England.
When First Class cricket resumed after the Great War Whitehead was 35 and had sustained a shrapnel wound to his thigh on the Western Front. He may not have been fit enough for First Class duty, although he was a successful professional in the leagues until well into his fifties. Tebay devotes the remaining pages of the booklet to a biographical sketch of Whitehead and, with some diligent research discovers that, sadly, the final two years of his life were spent in the Winwick County Mental Hospital where, in 1956 at the age 72, he died. The cause of death was stated as being cerebral thrombosis. Given the much greater awareness now of mental health problems amongst the population generally, and professional sportsmen in particular it is a shame that Tebay was unable to track down any descendants or records that might have added some detail to those basic facts.
Issued in a signed and numbered limited edition of fifty copies at a very reasonable £6.99 including UK postage Ralph Whitehead: Double Sensation in a Single Day is a thoroughly worthwhile addition to Martin Tebay's oeuvre, and is certainly recommended.