R.E.S.Wyatt – Fighting Cricketer
Martin Chandler |
Published: 1985
Pages: 278
Author: Pawle, Gerald
Publisher: George Allen and Unwin
Rating: 4 stars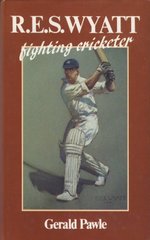 When David Frith reviewed this book in the old Wisden Cricket Monthly, shortly after its publication in 1985, he began by writing Somehow history seems to have sold Bob Wyatt short. Sadly it still does, and while the stock of some of his contemporaries, most notably Douglas Jardine and Harold Larwood, has risen markedly in the intervening 27 years, Bob Wyatt seems to be forever condemned to playing a bit part in the kitchen sink drama that the late Gerald Howat described as Cricket's Second Golden Age.
In a First Class career that extended over 35 summers, 29 of them (the war years apart) as a full time County player, Wyatt scored nearly 40,000 runs at a fraction over 40 with 85 centuries. He added to that more than 900 wickets at medium pace, at the respectable cost of 32 runs each. His record in his forty Tests, almost half of them as captain, is a little less impressive, but the mere longevity of that career, in an age when much less Test cricket was played than it is today, is testament to his value to England.
In his own time he suffered from being the man chosen to replace the immensely popular Percy Chapman as England skipper in 1930, and to those who disapproved of the tactics he was forever tainted as Jardine's vice-captain on the Bodyline tour of 1932/33. That his bravery under attack did not make up for those knockbacks to his popularity is something I have never understood, as he was seriously injured at least a dozen times, once famously having his jaw shattered by West Indian Manny Martindale, but still insisting on reworking his batting order before he left the ground for hospital. The reverse of the book's dust jacket includes a wonderful quote from England teammate Cyril Walters; He never flinched. He used to stand there like a solid rock. If he saw a ball coming which he thought ought to be hit for 6 to leg and he mistimed it he took it on the jaw instead. He was very strong and there was a stubborn streak in him.
That stubborn streak meant that were fallings out along the way with some teammates, and with the committee at Warwickshire amongst others. Perhaps like most of us he just mellowed as he matured, but when in later life he assumed, for a time, the mantle of the senior English Test cricketer (he lived to be 93) he became something of a national treasure. On his regular trips to Lord's writers and journalists would always seek out the old soldier with the glottal voice and the facial expression of a Bassett Hound, and they were rarely disappointed. His sense of humour was also a delight and I will never forget one of his contributions to the BBC's fiftieth anniversary documentary on the 1932/33 tour. He explained that early in the second Test he was fielding at fine leg, or perhaps it was deep square leg, but in any event he had to listen to the vociferous crowd telling him to "Wait till our Don comes in". In the fullness of time Bradman did come in and, bowled first up by Bill Bowes, departed as quickly as he had arrived. Wyatt bided his time and then recounted, with just a hint of a smile, that a few overs and a couple of wickets later, he enquired of the crowd When is your Don coming in?
But I must bear in mind that I am reviewing a biography of Wyatt rather telling his tale myself. This book was written by Gerald Pawle with, thankfully, his subject's co-operation. The jacket tells me that Pawle was a career journalist who wrote on many subjects. Matters military and political seem to have taken up most of his time, although I note he was an international squash player as well. Cricket writing seems therefore to have been but one of many strings to his bow, but I am still surprised and not a little disappointed that this life of Bob Wyatt seems to be his only contribution to the game's literature preserved in book form.
Is it a good book? Well it couldn't fail really. There are quite enough interesting incidents littering Bob Wyatt's career to hold a reader's attention, and to have the impressions on those of the man himself serves only to heighten the importance of this biography. Frith had a little moan about the index, and I am going to have one about the fact that the statistical appendix comprises only a list of Wyatt's 121 century partnerships, and although I have to concede that that irritated me rather more when I first read the book in 1985 than it does now, I still prefer, blessed utility that it is, not to have to have Cricketarchive open when I am reading a cricketer's biography. But that is nit-picking and, I presume down to publisher rather than author, so I have no hesitation in awarding this book four stars. For those with an interest in the game in the 1930s it is undoubtedly a "must read".