Punchy's Hampshire Years
Martin Chandler |
Published: 2021
Pages: 192
Author: Chalke, Stephen
Publisher: Charlcombe Books
Rating: 4.5 stars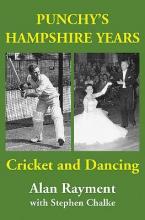 To use a hackneyed phrase, would you like the good news or the bad?
In truth the good far outweighs the bad, so I will start with that. It begins with further confirmation, if such were needed, that despite Stephen Chalke parting with the ownership of Fairfield Books he shows no sign at all of giving up writing. This is just as well as on the strength of Punchy's Hampshire Years Stephen is still well and truly at the top of his game where writing is concerned, even if the appeal for him of lugging around boxes of books has rather palled in recent years.
The task Stephen set himself on this occasion, a book on the life of the Hampshire batsman of the 1950s, Alan 'Punchy' Rayment, is a little different from his previous projects, and it is as a result of that there is just a tinge of disappointment. Although it is certainly biographical Punchy's Hampshire Years is not a life story, in that it lacks a beginning, and whilst it has an ending it is not as thorough a conclusion as Stephen's reader would have liked, nor I do not doubt Stephen himself.
The lack of a beginning to the story in a sense matters little because, in Punchy Through The Covers, the man himself published what must on any interpretation of the word be a 'full' story of the first 21 years of his life, in 2013. Rayment had intended to write two more books after that, one to cover his ten years in cricket, and then a third to cover the rest of his long life, one lived very much 'to the full'. Sadly however Rayment died in 2020 at the age of 92 and, with the inevitable slowing brought on by the advance of anno domini, he had not by then finished volume two, and had barely scratched the surface of volume three.
With his eye for an interesting character over his years as cricket's foremost 'oral historian' Stephen was well acquainted with his subject, and was the obvious man to pull together the many notes and other materials that Rayment left behind. Those, coupled with his knowledge of the man, have enabled Stephen to make Rayment's story just as fascinating as those he has previously put into print for so many others*.
Over the years Stephen's subjects have not been men with stellar playing careers and, as a specialist batsman with a career average that only just crept over 20, Rayment is certainly no exception to that. No more than an occasional bowler even the added value of Rayment's brilliance in the covers was not sufficient to always guarantee him a place in the Hampshire side, but then with uncovered wickets and plenty of top class bowlers around the counties his was a difficult era for all but the very best of batsman. That he had considerable ability there can be no doubt, and from the descriptions of some of his better performances it seems clear that, to an extent at least, he under achieved in his years with Hampshire.
The story of how Rayment became a professional cricketer is very much of its time, and certainly in respect of his early years in the county game he left much interesting writing of his own and for that period Stephen does little more than put together a commentary and, occasionally, provide further insights and corroboration from his own extensive archive of stories. Later on he has to take a more active role, but always there are quotes from Rayment to illuminate the narrative, as well as the recollections of others.
In addition to his cricketing abilities Rayment was also an accomplished dancer, as was his first wife, and the pair set up a dancing school, the income of which, once it was established, far exceeded that derived by Rayment from cricket. The account of the development of that 'sideline', and particularly how Rayment was able to fit his commitments to it in with his obligations to Hampshire is an important part of the story.
One result of the Rayments busy lives was a crisis in their marriage in 1957 which resulted in a period of separation. I am not sure how best to describe what then happened to Rayment. A sudden enlightenment perhaps? A light bulb moment? or even, for those more cynical, simply 'catching religion'.
Whatever the best description of the episode I doubt that even as talented a writer and shrewd an observer of the human condition as Stephen Chalke could explain it in Rayment's absence. So it is just as well he didn't have to, as Rayment's own account of that part of his story is undoubtedly the most important piece of writing that he left behind. It is quite extraordinary that, when he wrote about it sixty years on, the experience seemed to have lost none of its significance for Rayment,
The immediate aftermath of what happened in 1957 included the end of Rayment's time as a professional cricketer, and after that? Well that is where Stephen's reader is left wanting more, and there is only enough material for another few pages. One document that Rayment did prepare was, in 1993, a CV. It is a remarkable document and illustrates a bewildering variety of occupations and activities, none lasting for more than four years and ranging from estate agency and property development on the one hand, to student, social worker and pyschotherapist on the other.
And even after that document was prepared Rayment lived on for the best part of another three decades, so I understand now why he was planning a trilogy. It is a matter of some regret that we have so little on more than sixty years of Rayment's life, but be that as it may we should be grateful that the notes for the book that Rayment planned to be his second volume of autobiography, and his other personal papers, ended up in the hands of Stephen Chalke, who has weaved them into a fascinating tapestry.
*Mickey Stewart, Ken Taylor, Tom Cartwright, Keith Andrew, Geoffrey Howard, Geoff Cope, Bob Appleyard and 'Bomber' Wells, as well as many others he has written about