Phil Edmonds – A Singular Man
David Mutton |
Published: 1986
Pages: 180
Author: Barnes, Simon
Publisher: Kingswood Press
Rating: 3 stars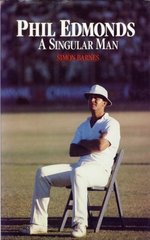 In 1986 Simon Barnes was an up and coming journalist at The Times and Phil Edmonds was an idiosyncratic spinner approaching retirement. Barnes first met the spinner a couple of years earlier and was surprised by how much he warmed to the man. The two became closer and and hatched the plan for this biography to show that Edmonds' "reputation for beastliness is not based on fact." This was Barnes' first sports book and although it contains considerable evidence of his burgeoning talent there are also times when it reads like a writer who has yet to find his voice. This includes the introductory and final chapters where Barnes channels his inner Hunter S. Thompson and writes about his own relationship with Edmonds and his role in a minor scandal on tour in the Caribbean. This is proof, if proof was needed, that cricket is not ready for gonzo journalism.
Barnes is at his best when he sticks to the story of Edmonds' life, especially his formative years. His childhood in Zambia was overshadowed by his father's alliances with anti-colonial politicians and in the years leading up to Zambian independence the Edmonds family were ostracised from the white expatriate community, who accused them of being "kaffir-boeties" and even suspected them of spying for the Russians. The family left Africa and Barnes excellently describes Philippe-Henri's difficult transition to English life, including his catastrophic captaincy of the school cricket team.
Barnes' central thesis, and the subtitle of the book, is that Edmonds is a singular man among cricketers. In his quest to demonstrate the point and quash the view that he was merely a member of the awkward squad, there are times when it feels like Barnes is mostly agreeing with Edmonds' self-assessments. This is clearest in the tense relationship with Mike Brearley, who Edmonds blamed for his never becoming captain of Middlesex, and a lack of opportunities with England. There is certainly little doubt about which of the pair Barnes blames for the rancour.
More than twenty-five years after publication, and Edmonds retirement from the game, the biography also serves as a reminder of the prejudices of that time. The most revealing quote comes from Bob Willis, who said that "I would want Edmonds to bowl a string of maidens to give the seamers a rest – But that's not what happened. I would put Edmonds on and he would bowl three different kinds of deliveries in an over." Edmonds was an aggressive spin bowler, a man who tried to get the batsman out with every ball. More than his reputation as a troublemaker he was simply playing in the wrong era. In today's game, after Warne and Muralitharan have reinvented spin's possibilities, Edmonds' bowling would have been viewed as an attacking weapon rather than a defective defensive tool.
If the prevailing attitudes to spin bowling dates the book, Edmonds' career after cricket provides a need for an update. To the surprise of nobody he has become a multi-millionaire but alongside the money have come allegations of providing guns for the Zimbabwean government and oil-exploration in war-torn Sudan. It would be fascinating to explore how Edmonds reconciles such business ventures with his childhood, where the likes of Kenneth Kaunda were frequent house guests, and his father, who cared passionately about the future of the African continent.
By the end of the book the reader is left in little doubt that Edmonds is indeed a singular man. Barnes has written a sympathetic correction to the caricature of an arrogant, individualistic money-grabber. However a more conventional biography, one that included a more objective assessment, focussed on a chronological narrative and featured fewer of Edmonds own opinions, would have allowed a deeper understanding of the subject.