Over and Out
Martin Chandler |
Published: 2017
Pages: 224
Author: Neal, Steve
Publisher: Pitch Publishing
Rating: 4 stars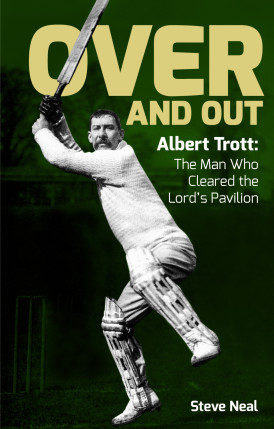 Successful cricketers don't always make the best subjects for biographies. The reason is the straightforward one that, outside the game at which they excel, their lives simply aren't particularly interesting.
Albert Trott, one of the select few to have played Test cricket for two countries, is most certainly not in that category. His international career may have been a case of falling between two stools, but there were plenty of noble feats on the field for Middlesex and the MCC, and the few Test matches in which he appeared were far from uneventful.
The most interesting aspect of Trott however is what went on 'behind the scenes'. It is clear from the well reproduced set of images in Steve Neal's book that 'Alberto' was a man who aged at a rapid rate, no doubt due to an excess of living life to the full. Photographed in 1895, at 22, he is a picture of health and youthful vitality. Ten years later however his face and features had acquired the sort of 'lived in' look of a man well past his early thirties.
There are stories of many stirring deeds in Over and Out, ranging from an account of the handful of Tests Trott played for Australia, through the single stroke that defines him and onto the self sabotage of his own benefit match. The former was the drive off Monty Noble that remains the only shot to ever clear the Pavilion at Lord's, and the latter the feat of taking two hat tricks to foreshorten a match from which he was due to retain the whole of the gate money. Whether it actually had that effect, given that the game did go to a third day anyway, must be open to doubt, but the story remains a good one.
Lifestyle issues also made for an interesting existence for Alberto and one which, predictably, turned out to be far from straightforward once his physical prowess began to desert him. Ultimately his life had a tragic ending in 1914, by which time his wife had returned to Australia taking his children with her, and his ability to earn a living from the only thing he knew was seriously compromised by failings in both his bodily and mental health.
There have been books about Trott before. David Frith penned the story of his decline extremely well in his fine study of cricketing suicides, Silence of the Heart. More recently Aussie Rick Smith has published a double biography of Trott and his brother, Australian skipper Harry, whose life was not much less interesting than Alberto's and also had a sad end. As Archie pointed out in his review Blighted Lives was rather more about Harry than Alberto, so the definitive job had not been done. Neal also takes the opportunity to weave strands of Harry's story into his book, although Over and Out could not be described as a double biography in the sense that Blighted Lives was.
Is there room for another book on Alberto? When I heard Over and Out was being published I have to say I wasn't convinced there was, but having read it I am left with no doubt but that there is. There is much flesh put on the bones of the story that has appeared before as thanks to diligent research and enquiry at Lord's, and in contemporary writings, Neal has discovered much that is new and which adds colour to an already vivid tale.
As a digression there is one aspect of publishing that irritates me, and that is when, as here, a book is written by a name I have not heard yet there is virtually no information provided about the writer. What can be gleaned is that Neal has been working on the project for years, doubtless explaining the depth he has been able to add to the story. Over and Out must therefore have been a labour of love without any expectation of any sort of financial reward, and I am always curious in those circumstances to know what it is that writers do in order to pay the bills. I miss the days when books carried a brief pen portrait of their author somewhere within their covers.
So, tentatively, I have made the judgment that Steve Neal is what I always describe as a hobbyist writer. Often in those circumstances a problem arises out of the fact that, if truth be told, there is a reason why such men and women are not professionals. The reality is that their lack of training and/or experience means that their prose can be a little tedious, or even downright dull. Neal has a bit of an advantage there because his raw material is so good, but even so he makes an excellent job of telling Alberto's story and, passing the acid test of any biographer with flying colours, he leaves his reader with the feeling that they knew Alberto personally.