On Warne
David Mutton |
Published: 2012
Pages: 224
Author: Haigh, Gideon
Publisher: Viking
Rating: 4.5 stars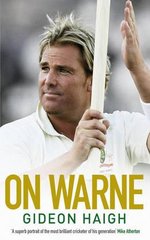 I read On Warne, Gideon Haigh's latest offering, during a long train trip. On the same journey my wife read his book on abortion in Australia. No other cricket writer, present or past, has bridged subjects as diverse as the BCCI and backroom abortions, Warwick Armstrong and asbestos. Cardus had his opera, C.L.R. James mixed his cricket with socialism and A.A. Thompson penned novels, but Haigh writes about pretty much everything else.
Despite seemingly covering all aspects of sport, politics and business this is something of a departure for Haigh. His previous cricket books have usually been works of history rich with research or collections of his articles. On Warne is a book about a man who has been in the public eye for two decades, his life subject to constant scrutiny and frequent scandals. Haigh presents no new facts or interview material. Indeed it is in some ways the antidote to the several biographies already written about Warne, with their tawdry tales and faux morality. Instead Haigh relies on his analytical perceptions and way with words (some of which forced to me to consult a dictionary, including the description of Malcolm Conn as "pertinacious")
This is a verbal portrait; one man's take on a life crammed with accomplishment and incident. Fortunately Haigh is a beautiful portraitist. Even the opening anecdote, about Haigh's first interview with Warne, brings a fresh perspective with a comparison of the spinner with Bill Clinton (which is revisted in a discussion on their respective extra-marital dalliances.) He situates Warne within his various worlds: the great green and gold team in which he played, Australian cricket more broadly and the country itself. We not only understand Warne better, we learn a fair bit about the society in which he prospered.
The book is divided into five chapters. The second, about Warnes "art" of bowling, is exceptional, showcasing Haigh's extraordinary abilities to describe, explain and analyze complex aspects of the sport. Haigh emphasises that Warne was a "simple and orthodox bowler". He did not need fripperies like a googly because he bowled the best leg spinner in the history of the game, and carefully cultivated the air of mystery that came with his success. The third chapter is equally good, with its examination of Warne's relations with three of his teammates. There was McGrath, his bowling peer; MacGill, who intruded at times on Warne's patch; and the transition of his friendship with Steve Waugh into passive aggressive snarking, with John Buchanan usually the punch line.
These studies of the physical act of bowling and the psychological dynamics within one of the greatest ever sides are exemplars of a great biography. It allows us lay readers to better understand a subject we thought we already knew. Given such compliments, the lack of five stars seems a little harsh. I confess that my reasons are purely subjective. At 224 pages, On Warne does not overstay its welcome, and, Haighophile that I am, I greedily wanted more. I missed the meticulous research that features in Haigh's historical piece, and On Warne seemed to lack some of the energy, or at least the sense of urgency, that characterize his best work.
Perhaps holding Haigh up to his own highest standards is unfair. He is the best in the business and On Warne is highly recommended.