Murray Goodwin: A modern-day Sussex great
Martin Chandler |
Published: 2021
Pages: 56
Author: Talbot, Bruce
Publisher: Sussex Cricket Museum
Rating: 4 stars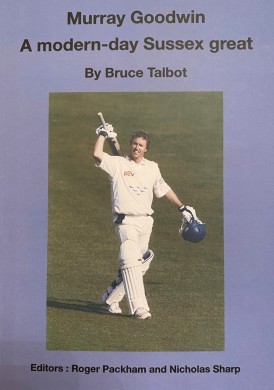 Every time I look at Murray Goodwin's record I end up scratching my head. Make no mistake his record is a good one, averaging 42 in Tests, 46 in all First Class cricket and 49 for Sussex, but somehow that just doesn't reflect the man I remember. I recall a batsman who always looked to be one of the very highest class, and one who was never inclined to give it away after he reached a century. On the 71 occasions he reached the landmark he went on to pass 200 nine times, and two of those ended up as triples.
Born in Zimbabwe Goodwin moved to Australia as a youngster, before going back to Zimbabwe and, between the ages of 25 and 27, playing in 19 Test matches. In the last of them he scored an unbeaten 148 as Test cricket's new boys got the better of a draw with England at Trent Bridge. Sadly for his home country however Goodwin decided his future lay in domestic cricket, with Sussex in England, Western Australia and, for a single season, Warriors in South Africa.
When Goodwin joined Sussex for the 2001 summer the county had never in its long history won the County Championship. During his twelve summers at Hove however they triumphed for the first time, and then followed that up with two more titles. There were four other trophies as well in a wonderful few years for the Martlets, throughout which Goodwin was their leading batsman.
The story of Goodwin's career is an interesting one, and it is well told in this booklet by Bruce Talbot. As the cricket correspondent of Brighton's Evening Argus throughout Goodwin's career no one could be better qualified to write it. As to why Goodwin's average is not nearer 60, where it always looked to me like it belonged, I realise now that he had some lapses in form, and in particular three poor English summers. The first of those, in 2009, doesn't look quite so bad at first glance, but that is only because of an unbeaten 344 which represented 43% of his summer's output. Without it however he would have averaged just 19.
Goodwin left Sussex after a shocker in 2012, which was followed by a good summer with Glamorgan, and then by a disappointing swansong with the Welsh county. After that it was back to Sussex as a coach and, in time, to Western Australia, where Goodwin now works as an Estate Agent.
Murray Goodwin: A modern-day Sussex great follows the usual style of the Sussex Museum's output, and is as well produced as ever. There are plenty of illustrations, a few well chosen and well presented statistics, and a warm and delightfully written foreword from long time Sussex teammate Chris Nash. Published in a numbered and signed limited edition of 150 copies the booklet is available for purchase through the Museum's website.