"Mr. Scorer" Lunt
Martin Chandler |
Published: 2019
Pages: 12
Author: Tebay, K Martin
Publisher: Red Rose Books
Rating: 3 stars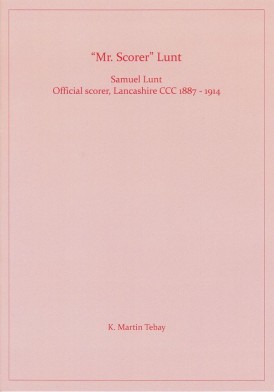 This small booklet is a biographical sketch. Martin Tebay and Red Rose books have a long history of producing pieces of research for the genuine cricket tragic, especially of the Lancastrian variety, although even against that background this one probably warrants a description as being "hardcore".
The subject of the essay, Samuel Lunt, was not a cricketer, and it is not even clear whether he played the game at all. What we do know is that in 1887 he became the official scorer for Lancashire. Lent then remained in post for 25 years, missing just a single day of the county's cricket over that time, and then retiring three years before his death, in 1914, at the age of 79.
If Lunt has living descendants Tebay has not been able to track them down, so the story is based on public records and contemporary press reports. There are also some interesting insights into Lunt and his personality that come from a book published by WE Howard in 1928, Fifty Years Cricket Reminiscences of a Nonplayer. Howard worked for the Lancashire club for many years as dressing room attendant and it is from him that we learn that Lunt's favourite Lancashire player was the noblest Roman of them all, Archie Maclaren, although the relationship between the autocratic Maclaren and Lunt was not always the best, seemingly because despite the great differences in their backgrounds, Lunt and Maclaren were not dissimilar personalities.
Prior to getting the job as scorer Lunt does not seem to have aspired beyond being a clerk in the cotton industry. Nonetheless he was only 43 he secured the position of Lancashire scorer, and that was that for the rest of his working life. Six years before that he was already described as "retired" in a census and at at that time was a lodger in the home of a widow in Manchester. In 1890 he married and by that stage he had an address in Leeds. There is no indication of any family wealth yet Tebay locates Lunt's probate record which showed that in 1914 he left an estate with a 2019 value of £750,000, yet it is not clear how that accrued.
Inevitably in a book such as this there are some tantalising glimpses into the past. I was particularly interested in a fairly lengthy account of an occasion when a 27 year old Lunt faced trial in respect of an allegation of breach of the peace. I was surprised to see that after a full trial in front of lay magistrates when the only prosecution witnesses appear to be police officers that Lunt's evidence seems to have been preferred, and thus he was acquitted of the charge he faced.
Tebay provides his reader with a summary of the great deeds on the cricket field that Lunt witnessed, and the attitude to the modern game that the author discloses in his introduction is one which will strike a chord with, I would think, all his purchasers.
One sadness with the booklet, given the quote from the Lancashire Evening Post that occupies the first page of the book on the subject of the meticulous manner in which Lunt carried out his duties, is that there is no reproduction of any of the scorebooks that he was responsible for. I assume they must no longer exist, but the quote makes clear that they would make for interesting reading.
Tebay has produced "Mr. Scorer" Lunt in a limited edition of 50 copies modestly priced at £5.99 including UK postage. By its nature the booklet is certainly not for the casual cricket reader, but I would be surprised if there were not 50 of us sufficiently interested to wish to read this unusual account, even if it does raise almost as many questions as it answers. For the benefit of the publisher I have but one minor grumble. Brought on I suspect by the passage of time I find increasingly that I need to don my spectacles to read Red Rose's publications, so a slightly larger font, even if it leads to a small increase in the pagination, would be very welcome in this reviewer's corner of the Royal County of Berkshire.