MJK Smith: No Ordinary Man
Martin Chandler |
Published: 2013
Pages: 169
Author: Miller, Douglas
Publisher: ACS
Rating: 4 stars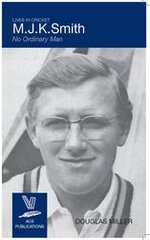 The summary on the rear wrapper of M.J.K Smith: No Ordinary Man describes him as surely the most distinguished cricketer to whom no book has hitherto been devoted. Having given the matter some thought it seems to me that that must be overstating the case, the names of Muttiah Muralitharan, Curtley Ambrose, Andy Roberts and Lance Gibbs all immediately springing to mind, but if you slip the word "England", into the sentence then I would agree that his 25 Tests as captain just shade the claims of Ian Bell and Paul Collingwood.
So why was the veteran of 50 Tests over 14 years overlooked for so long? The reason relates back to a comment made by former teammate Jack Bannister and quoted by Miller in the book, that MJK finished as he began – without an enemy in the world. It seems there were offers from potential biographers, none acceptable to the man himself, until after he was invited to become President of the ACS. That offer graciously accepted, and knowing that with Douglas Miller he was in as safe a pair of hands as his own had been during his playing career, he was happy to have his story told in the Lives in Cricket series.
It is as well events turned out the way they did, as although this is an excellent book, it would not have been without MJK's close personal involvement. He falls into that category of cricketers who are just short of the highest class, a batting average of 31 for a specialist being, realistically, not quite good enough. There were just three centuries in those 50 Tests, one at home against the lamentably weak 1959 Indians, one in the Caribbean in 1959/60 and the last in South Africa in 1964/65 – that tour was undoubtedly MJK's finest hour as he averaged more than 40 and led England to victory over a Springbok side, the nucleus of which developed into one of the finest teams the game has seen.
A further important factor is that MJK managed to miss most of the more interesting Tests that were played during "his" era. The controversial 1958/59 Ashes series came too soon , and save one Test in which he scored just a single he was out of favour for the next three Ashes series, as well as the visit of Frank Worrell's 1963 West Indians.
One of the unusual features MJK's career is it came in two parts. He left the game at the close of the 1967 season, by which time he was 34, to venture out on a business career. After missing two summers however he was back with his county, Warwickshire, in 1970 and it was as if he had never been away. In 1972, by which time this reviewer was confirmed as a lifelong cricket lover, his second bite at the cherry peaked when he was picked again for England, against Ian Chappell's Australians. Until then just a name in Wisden my abiding memory of MJK is of a man who really did not look like a professional sportsman at all, but I took note of two fine catches in the outfield. He also looked to me as competent as any against the exceptionally quick young pace bowler Dennis Lillee, and the remarkable Bob Massie who, for a few short weeks, swung a cricket ball more than my twelve year old self believed possible. MJK reached double figures in each of his six innings in that series. But then he never got past 34, so for the fourth Test he had to make way for Keith Fletcher, more than a decade his junior.
I recall my father telling me that MJK had always been a bad starter, although to a young Clive Lloyd fan he didn't look especially vulnerable. It is clear from Miller's book however that it wasn't just my Dad who took that view, and MJK did have that reputation. The best part of half a century on I have come to realise that Big Clive's early innings woes were all the more pronounced because of his gangling physique, and perhaps he wasn't that much more uncertain than the likes of MJK.
M.J.K Smith: No Ordinary Man is at its best is in the Chapter where MJK acknowledges and explains his technical shortcomings, as well as his strengths. His views on the game then and now, and the players he played with and against illuminate every page. As with all of the Lives in Cricket series the book, almost by definition, will not appeal to a mass audience. That said, it is an excellent read, and a lovely piece of writing with nary a split infinitive in sight, and the prose itself is as beautiful as the Venus de Milo – not a hint of ugliness anywhere.