Maurice Tompkin: More Than Just Runs
David Taylor |
Published: 2011
Pages: 136
Author: Holdridge, Richard
Publisher: ACS Publications
Rating: 3.5 stars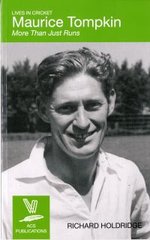 The Leicestershire batsman and sometime professional footballer Maurice Tompkin is not a name that is well remembered today. He appeared in 378 first-class matches – the vast majority of them for his county – between 1938 and 1956, making just under 20,000 runs, with 31 hundreds. But he made headlines for all the wrong reasons in late September of 1956 when he died of pancreatic cancer, which had spread to the stomach, at the age of 37. It was just three weeks after the end of the season, a season in which he'd played in 26 matches. To his team-mates the only indication that something wasn't right was his poor form – he failed to reach three figures and averaged just 18. But Maurice Tompkin was not the sort of man to complain or make excuses.
Richard Holdridge tells his story in this necessarily slim publication from the ACS, one of their 'Lives in Cricket' series. The author comes from the same Leicestershire village of Countesthorpe that the Tompkin family were living in when Maurice was born in 1919. As he says in his preface, "the task of writing 40,000 words (or so) on Maurice is challenging." There was little or no controversy in his playing career, but clearly he deserves to be remembered for more than his untimely and sudden demise. Tompkin was unlucky, as were so many of his time, in that war arrived just as he was starting to establish himself in the county side. When cricket resumed in 1946 he was already 27. Within three years he'd quit professional football, having played as an inside forward for Huddersfield Town and Kettering. There would be no Test appearances, only an MCC tour to Pakistan in 1955-56, a 'Lions' tour in modern parlance, in which he failed to do himself justice with the bat – quite possibly he was already beginning to suffer from the effects of the illness that would take his life.
But while Tompkin may have missed out on international honours, perhaps a victim of playing for an 'unfashionable' county (the author compares his record favourably with Jack Ikin and Willie Watson, who both had Test careers*, but then they played for Lancashire and Yorkshire) he was hugely popular with the Leicester cricketing public. The flood of contributions that came in to swell his memorial fund is testament to the esteem in which he was held. What comes across many times in this book is his unselfishness – time and again he would get out playing attacking cricket because quick runs were needed. He was universally liked across the circuit, counting Denis Compton as a particular friend. He spent a few winters coaching in South Africa but he did so because he had to provide for his wife and two sons, to whom he was devoted. Clearly he would much rather have spent more time with them.
This is a thorough, well-researched and sensitive account of a life cut tragically short. The passage dealing with his final days is short but very moving, as was the public response to assist his widow. While the statistical section – unexpectedly for an ACS book – could have been more detailed (his career record broken down team by team, for instance) Tompkin's story was, as the title says, more than just runs. His sons are both still alive and will no doubt have been very gratified to see his life remembered like this.
*Willie Watson played for England 23 times between 1951 and 1959 and scored 879 runs at 25.85. Jack Ikin was capped 18 times, first in 1946 and finally in 1955, scoring 606 runs at 20.89. A useful leg spinner at county level he took just three wickets for England, at a total cost of 354.