Mark Burgess: Talent To Burn
Martin Chandler |
Published: 2020
Pages: 126
Author: Francis, Bill
Publisher: The Cricket Publishing Company
Rating: 4 stars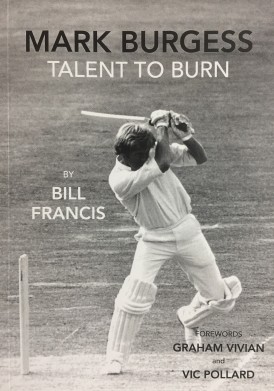 Mark Burgess was a member of the New Zealand sides that toured England in 1969,1973 and 1978. Neither he nor New Zealand accomplished very much on the first of those visits but in 1973, thanks in large part to their skipper Bevan Congdon the New Zealanders were, despite losing a three Test series 2-0 once again, a different proposition entirely. The resurgence was only temporary however as the class of '78 were a disappointing side, and lost all three Tests.
Having taken a great interest in all three series, particularly that of 1973 when, like many other England supporters, I rather hoped New Zealand might upset the established order, the name Mark Burgess was a familiar one. I recalled his being one of the three New Zealand century makers at Lord's in 1973, and that he was captain of the disappointing 1978 combination. That said he was never the demonstrative sort and beyond that, save that he scored his runs in an attractive style, as the years passed I did not recall a great deal about him.
The task of chronicling the life of Mark Burgess has been taken on by Bill Francis, a fine writer who has already, via The Cricket Publishing Company, given us books about Stewie Dempster, Sydney Smith, Tom Lowry, Bevan Condon and Barry Sinclair. With his project on Burgess Francis has had the full co-operation of his subject and also of many of his teammates and contemporaries and the book is, inevitably, all the better for that.
In the way of a number of recent biographies and autobiographies Mark Burgess: Talent To Burn begins with an account of a defining moment, and in the case of Burgess that came in Dacca (as Dhaka was then known) in 1969. Having gone into the match with Pakistan needing just a draw to secure their first ever series victory the New Zealanders looked beaten at 101-8 in their second innings, just 84 runs on with plenty of time left. They turned it round however, Burgess and Bob Cunis occupying the crease for an hour and three quarters to take the game beyond Pakistan, and Burgess ending the innings unbeaten on 119 for his first Test century.
After what is a taut and very personal account of a long forgotten performance Francis goes back to his subject's early life, his family and his background before telling the story of a multi talented sportsman who, by virtue of his playing for the full New Zealand side against Manchester United in 1967, is a double international. Burgess's memories of his opponents and the 11-0 drubbing his side suffered are interesting ones and reflect with great positivity on not only the heavily outgunned New Zealanders, but also on Matt Busby's team of superstars.
Returning to cricket after he made that first century Burgess made two more in his next two Tests and, by the time he retired in 1980 had been capped exactly fifty times. In the last twelve of those he captained New Zealand, a job he never coveted and had to be persuaded to take. Altogether there were 2,684 runs at 31.20 with five centuries, statistics that need to be viewed in the context that at no time in his career was Burgess a professional cricketer. As for the captaincy that may not have been his favourite part of the game, but he will always be the man who led New Zealand, 47 years on, to their first ever victory over England, at Basin Reserve in 1978.
And it is in Burgess's status that a major part of the interest in Mark Burgess: Talent To Burn lies. In England all First Class cricketers had been paid since 1963 but, a few years later when Burgess reached Test level, the only professional cricketer in New Zealand's side was Glen Turner, contracted to Worcestershire in England. Burgess earned his living outside the game, and indeed had the same employer for 46 years, New Zealand based Brittain Wynyard, clothing and sports goods distributors.
Also of interest is a chapter on Burgess's personal life. Married three times his first two relationships came and went during his cricket career and, that having ended, his third marriage has endured for more than thirty years. That Burgess's sporting pursuits were a contributory factor in that chequered history is a given, and his own take on that is illuminating.
Coming in at 126 pages Mark Burgess: Talent To Burn is much shorter than most cricketing biographies, yet once it is completed the reader is left with the feeling that they have read something far more substantial. That is no doubt down to the quality of the narrative, and the ability of author and publisher to see the wood for the trees.
And the production standards of the book? Mark Burgess: Talent To Burn is a paperback, but in no way is quality compromised. Printed on good quality paper the many illustrations are well reproduced and the design work has been carried out with the publisher's usual attention to detail. When the book was originally published, in March of last year, it was also scheduled to make an appearance as a short run leather bound limited edition bearing the signatures of a number of those who assisted Francis in his research. To date global conditions have put the signature gathering on hold, but hopefully the limited edition will eventually appear.