Lord's: A Celebration in Pictures
Martin Chandler |
Published: 2014
Pages: 240
Author: Strauss, Andrew
Publisher: Phillimore
Rating: 4 stars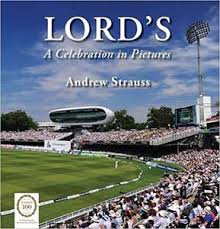 Personally I don't own a coffee table, and if I did I wouldn't store books on it. The fact that books are beautiful things, and a vital part of the interior decoration of a home I do get. But that really should be on the basis of book cases, preferably fronted with glass doors, full of neatly stored volumes, and not odd items dotted around the house which, in size, each resemble a paving slab.
Lord's: A Celebration in Pictures is what is often referred to as a coffee table book, which is perhaps why its existence, until very recently, had passed me by. The size of the book is 27cm by 27cm, which is going to annoy me intensely when the time comes for me to find a permanent home for it, but for now I am happy leave it on the desk in my study, as I have yet to tire of opening it.
Published to coincide with the 200th anniversary of the first match at Lord's in 1814 the book is one that seems not to have attracted a great deal of publicity. Part of the reason might be its silly price tag, at £50 a pop. The reason I have a copy now is that it is currently available from the Lord's shop at a cut price £15 per copy. I do have some sympathy with the publishers, as the production standards are extremely high, but they were never going to sell too many copies at £50 – at the new price however Lord's: A Celebration in Pictures is a decent buy.
The book's author is Andrew Strauss, although there was not a great deal of narrative for him to write. His introduction is nonetheless a good one, well written and creating interest even before the main purpose of the book becomes apparent, a total of 241 images. Some of them are familiar, but even those that are have never been as well reproduced before and, as I say, I can see where the initial price tag came from.
Cameras not being around in 1814 for an impression of what Lord's looked like in its earliest days means that for that period there are images of a series of paintings. The majority are familiar, but seeing them together does give an impression how the ground developed and how it became the iconic setting it is.
The earliest photograph is an impressive team group of the 1882 Australians. After that the camera takes over. There are still some artworks, notably a reproduction of the famous painting by H Barrable and R Ponsonby Staples that features the 1887 Gents v Players match. It is the one with the future King Edward VII in the crowd, as well as his mistress the actress and socialite Lily Langtry. Rather different is the previous image, an impressive photograph of the play, and not one I had seen before.
It is interesting to note how, from the 1880s onwards, just how many of the images are Lord's on the occasion of either the Varsity match or Eton v Harrow. Both were great social as well as cricketing occasions and the imagery concentrates on the former – social history through the photographer's lens it most certainly is.
As the book moves into the post war period the austerity of the 1940s and 1950s becomes apparent, although the overall impression is of a much more egalitarian world. That said as late as 1962 there is a shot of those of rank and privilege enjoying themselves at the Eton v Harrow match.
Through the 1960s the greatest player in the game was Garry Sobers, who crops up several times, and there are some thought provoking images that centre around the controversial 1970 South African tour, a visit that of course was eventually called off.
The first colour photographs come in at numbers 170 and 171, the latter of the scenes after the Indians had surprised everyone, perhaps even themselves, by beating Clive Lloyd's West Indies in the 1983 World Cup final. Personally I think there is a lot to be said for all sporting images being in black and white, but despite the inevitable falling off in my enjoyment of the book once full colour becomes the norm there are still some impressive sights that appear in the last seventy photographs.
I always find it surprising that in this sort of book, where the standard of the imagery is so high, that there is always one that immediately becomes a personal favourite. In this case it is image 140, and there is not a Lancastrian in sight, or a game of cricket, or even a gaggle of socialites in long dresses and top hat and tails. No, the best of the lot is number 140, a stunning image of three England batsmen in the nets; John Jameson, Richard Hutton and skipper Ray Illingworth.
Should the price of a book affect its rating in a review? I can see a good argument as to why it should, and if I were factoring in that £50* price tag it would be rather less than the four stars which, for £15, Lord's: A Celebration in Pictures thoroughly deserves.
*I have a suspicion that there was also a leather-bound and signed limited edition version on release. If so I have no idea whether that is still available and if so where from, or indeed what price it may have been on publication.