Life Beyond the Airing Cupboard
Martin Chandler |
Published: 2008
Pages: 240
Author: Barclay, John
Publisher: Fairfield Books
Rating: 4 stars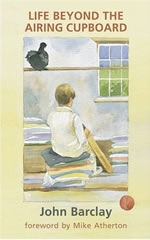 John Barclay was an opening batsman and off spinner in the Sussex side of the late 1970's who was elevated to the captaincy for the 1981 season. Sussex's wait for their first County Championship title would have to wait until the dawning of the next century, but they almost made it that year and Barclay's contribution was sufficient for Wisden in 1982 to suggest he was an England captain in waiting.
As an all-rounder Barclay was steady rather than spectacular and his career statistics, which, to give an early hint at the style of the book, are not mentioned anywhere in it, reflect a journeyman rather than a talisman.
On going to other sources, and looking around the scorecards of games in which Barclay was involved, there are over his career, inevitably, a number of crucial personal performances recorded, however on those relatively few occasions he refers to his own positive contribution to an innings that is only ever because the match in question is being mentioned for some other reason.
Autobiographies generally start life as a single story and the fact that this book started life as a series of individual essays intended for publication in The Times is no doubt part of the reason why this one doesn't present quite as the reader expects. Another reason is inevitably the self-effacing personality of the writer – as already implied the personal contributions Barclay highlights generally involve his being dismissed for a duck, providing cannon fodder for batsmen or making captaincy decisions that backfire, and consequently almost all of the cricketing stories are heavily laced with humour.
There are plenty of entertaining non-cricketing stories as well. I particularly enjoyed a barely credible story about Barclay giving JFK's daughter a lift home from a nightclub in an old van while being pursued by the paparazzi and another about his adventures driving the brand new Jaguar of newly appointed England captain Tony Greig.
It is also striking that the book isn't used to settle any old scores or set out Barclay's views of his contemporaries or, indeed, anyone else. When drawing others into his story Barclay rarely involves them beyond their role in the particular tale he is telling. The reader does learn a little about Greig and Garth le Roux and, assuming I have interpreted certain passages correctly, I did spot one or two gentle digs at Imran Khan.
Barclay deals with his demons too and his constant battle with depression, as well as the tragic loss of his first wife. He tends not to mention his problems too often, nor in too much detail, but the issues are never shirked, particularly in relation to what must, realistically, have been a particularly harrowing period that he spent in a 'clinic' in Australia one winter receiving treatment. That particular episode is dealt with at some length but, as with his cricket stories, Barclay involves his reader in the main with the amusing aspects of his stay in the establishment.
This book is a memorable read and I very much hope it will not be Barclay's last volume of reminiscences – in particular I simply cannot believe that we have been treated to the totality of the Caroline Kennedy story and I eagerly await the unexpurgated version!