Kings in Waiting: Somerset's Quest to Win the County Championship
Martin Chandler |
Published: 2021
Pages: 254
Author: Blow, Thomas
Publisher: Pitch
Rating: 4 stars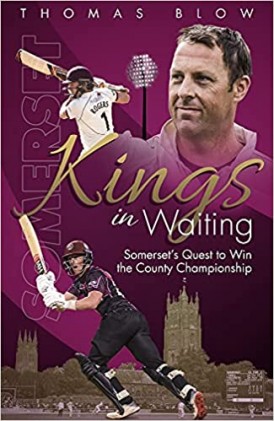 For those of us who love county cricket the most important trophy, by a country mile, is the County Championship. As a Lancashire supporter the longing to win the title is something I know only too well. When I was a youngster my team were the most successful one day team in the land, but even then I would have swapped all those Gillette Cups and John Player Leagues for a Championship title. Ten years ago, ironically enough at Taunton, the 77 years of hurt came to an end and for the first time since 1934 the Red Rose were champions.
Ten years on and I can empathise with Somerset supporters. They had their one day successes in the 1980s but their star studded side could not bring the Championship pennant to their historic headquarters, and for the West Country men the years of hurt now number 130. Put like that my fellow Lancastrians and I have much to be grateful for.
So who is the best person to write a book on this subject? I would have expected the right man, or woman, to be some grizzled veteran of the numerous recent near misses. I certainly wouldn't have thought a 26 year old Yorkshireman based in London would be the man for the job, an observation which amply demonstrates that either I know nothing, or Thomas Blow is the exception that proves the rule.
Personally I would like to think that the latter is the explanation, and in support of that contention my first exhibit is Blow's previous book, The Honorary Tyke. That one amply demonstrated a thorough understanding of the traditions of the game, coupled with the ability to look at more recent events in that historical context. It was an impressive debut.
The journey from Yorkshire to Somerset is as long as any in county cricket, but Blow's Sheffield roots do not in any way compromise his objectivity as he begins Kings in Waiting with a quick look at Somerset's pre 2010 history. There is not a mention of the regular drubbings handed out by Yorkshire, though a couple of noteworthy defeats at Lancashire's hands are noted.
The main part of the book is the five substantial chapters that follow that introduction, one each dealing with the five summers in the last decade when Somerset have finished as runners-up in the Championship, 2010, 2012, 2016, 2018 and 2019.
The coverage of County Championship matches in the press is not what it once was, but there are still reporters at the grounds and plenty has been written on the subject of Somerset's recent summers. Had Blow been so minded he could have written a half decent account of those campaigns without leaving his armchair, and I suppose during a nationwide lockdown that would have been considered the right thing to do by some. It wouldn't have led to a particularly interesting book though.
Fortunately however Thomas Blow is a much better writer than that and whilst, as they must, those five chapters  do contain a commentary of each season that is merely the framework around which the story is constructed. The match descriptions are much enhanced by the observations and thoughts of many who were involved in those five summers, either from direct interviews carried out as part of Blow's research for his book or culled from from contemporary sources.
The elusive championship pennant is the main theme of the book, but there is a nod as well towards Somerset's not dissimilar travails in a number of the shorter formats which, eventually in 2019, did at least culminate in one victory in what was, for the time being at least, the last one day cup final at Lord's.
Having told his story Blow then finishes his book off with what he describes as an epilogue, in which he looks forward and assesses the question that cannot be ducked, Can Somerset win the County Championship in the 2020s? He sets out all his arguments and persuasively puts forward a strong case. What is his verdict? Personally I have no objection in principle to including a spoiler in a review, but I wouldn't want to rob Blow's reader of the pleasure of reading Kings in Waiting and then comparing their own conclusion with the one their host arrives at, so this time I shall resist the temptation, and simply recommend that all who have borne with me up until now go out and buy the book.