Ken Farnes
Archie Mac |
Published: 2000
Pages: 191
Author: Thurlow, David
Publisher: Parrs Wood Press
Rating: 3.5 stars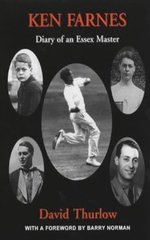 After recently reading Tours and Tests,which was published just before Farnes died in the Second World War, I was left with a thirst for knowledge about this enigmatic character. It turned out a bad idea to read this book so soon after reading Tours and Tests, as Thurlow's biography quotes large sections from Farnes autobiography, especially about his childhood.
This criticism apart, the book under review does provide an insight into both the personality of Farnes as well as his cricket career, which unfortunately due to his modesty was sadly lacking in his autobiography. We find Farnes the cricketer, despite his amateur status and inability to play cricket until his work as a school teacher allowed, was a man before his times. A fitness fanatic with, by all accounts, a physique to die for, and a deep thinker on the game. Unfortunately none of this is mentioned in his autobiography and Thurlow provides these insights by dint of research.
Thurlow has also spoken to students of the once amateur school teacher, extant friends and family and research undertaken by others. He also had access to a diary kept by Farnes on a tour of South Africa in 1938-39. It is this diary that provides the most memorable and enlightening glimpses into the personality of Farnes. The diary portrays him as something of a philosopher and a man with ambitions and goals, if a little insecure and even, perhaps, a touch vain.
If the Farnes diary provides the insight into the man, then the chapter on his brief war career is the best written of the book. Thurlow performs a fine job of humanising his subject. He writes about Farnes' first significant romance and quotes extracts from love letters Farnes wrote to his intended wife. For some reason the fact Farnes had found the woman of his dreams just prior to his death, gives a feeling of melancholy rather than any happiness.
So the final verdict is to give the overly modest Tours and Tests a miss and just read David Thurlow's fine biography on Ken Farnes. That is, if you want to really know about the life of one of the most interesting of all English cricketers. If, however, you are a collector then Tours and Testsis the one; a rare and expensive book.