Keeping Up
Hector Cappelletti |
Published: 2019
Pages: 243
Author: Bates, Michael and Huelin, Tom
Publisher: into-words.co.uk
Rating: 4 stars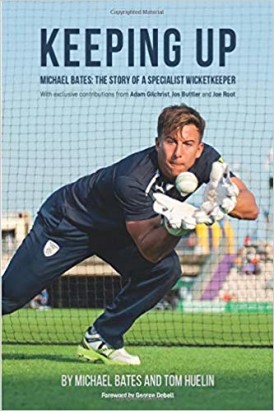 By the age of 29 many professional sports men/women are enjoying what are deemed the peak years of their career. They have emerged from the precocious, greenhorn early years of their career when the latent talent begins to soar but is very much unpolished. They have arguably found their niche in their chosen sport, a little more comfortable in their own abilities and their place in the game at large, looking to make continued progress as sporting maturity develops and as experience builds.
Naturally, for a variety of reasons, the professional careers of many sportsmen/women have come to an end or petered out by the age of 29. But how many careers have ended despite the player being described as one of the best wicket-keepers in the world? Such is the bizarre situation regarding erstwhile Hampshire wicket-keeper Michael Bates, regarded as one of the best exponents of the art of his generation but now retired from professional cricket despite such stellar skills, a result of cricket's downgrading of the role in pursuit of more runs.
Thankfully, the brilliance of Bates and his brief professional career has been chronicled by Jersey born freelance writer and author Tom Huelin in the tome Keeping Up, the story of how a specialist wicket-keeper drifted out of the professional game despite such prodigious skills. The excellent foreword, written by esteemed Cricinfo journalist George Dobell, aptly sums up the reason for the book. Wicket-keeping as a role, as an art has been downgraded in modern day cricket. Restricted by a slavish obsession with the strait-jacket nature of statistics, wicket-keeping, one aspect of the sport that cannot be quantified, has been devalued. In contrast, Dobell's references to the psychological effects on batsmen / women and bowlers highlights the import of a quality wicket-keeper.
Following on from Dobell's comments is an intriguing chapter on wicket-keeping as an art. Of great interest are the theories that a specialist wicket-keeper could become crucial once again in white ball cricket compared to the opposite comments of Bruce French regarding how a wicket-keeper will actually be involved with a small number of deliveries in a twenty over contest. Equally interesting are the quote from Nic Pothas regarding a diamond that doesn't fit into a setting and Jimmy Adams' comments about the pure sound of the ball hitting the gloves of a natural wicket-keeper, both highlighting views of established Hampshire players toward the role.
The story of Bates' formative years as he moved through the Hampshire ranks proves similarly interesting. Bates made his debut for Hampshire's First XI on 18th July 2010 against Sussex in the T20 Blast, a match that this blogger attended, (N Pothas neatly crossed out on one's personal scorecard and replaced with M Bates) the bizarre details of which are naturally included in the text. Nevertheless, the early stages of his professional career were still pockmarked by a particular theme: how Bates was concerned about his batting and how he perceived it to be lagging behind. Curiously, Bates comments that he probably wasn't given enough time for his batting to improve at first-class level and was judged too early as he was still a young player finding his way in the game. Despite breaking into the First XI team the batting issue seemed to be in the forefront despite Bates' stellar performances with the gloves. Later in the book current England captain Joe Root highlighted an interesting point regarding the comparisons between Bates' batting and his wicket-keeping, commenting that his wicket-keeping was so good that comparisons were wrongly drawn to Bates' batting, as in there being a disparity between the two, rather than his batting being compared to that of his peers.
Throughout the chapters on his career Bates is particularly forthright, and in some cases perhaps a little harsh, on the things he should or shouldn't have done in matches despite being young and, relatively, inexperienced at the time. Of particular note are his thoughts on the slip cordon and how much influence the wicket-keeper should have on the tactics regarding the number of slips and spacings between each member of the cordon.
Details of Bates' professional career are interrupted by a chapter entitled 'A Wicket-Keeping Masterclass,' a fascinating few pages that demonstrate how the skill of wicket-keeping is a lot more complicated and intricate than most likely imagine. Bates highlights the importance of aggressive wicket-keeping (the art of standing up to the stumps to apply pressure) and the differences between keeping in England and in Australia, technical adjustments that are not obvious to the lay supporter. The chapter also includes a most salient point: good keepers make it look easy; 'a natural catcher will triumph over a manufactured keeper all day long.'
Perhaps the most intriguing chapter of the entire book is the eighth, simply entitled Wheater. In many respects, the name Adam Wheater is arguably synonymous with Hampshire's own episode regarding the conundrum of wicketkeeper-batsman versus batting wicketkeeper. The chapter is only ten pages in length but it pulls no punches as Bates asks some particularly forthright questions and offers similarly forthright opinions on the issue. Nevertheless, he is also honest about his role in not asking for support during such difficult times, perhaps a little too self-deprecating when one considers the success from the previous season. The chapter is short and sharp but the passage was clearly a Rubicon moment in Bates' career.
The final three chapters covering the remainder of Bates' short professional career make for rather sombre reading, particularly considering his relative inexperience as a whole as a professional cricketer by the time Adam Wheater was signed. Particular comments by Nic Pothas regarding how Bates' career could, and should, have been developed make for interesting reading as do those from Chris Wood and Liam Dawson regarding how Bates' abilities aided their bowling. Similarly interesting are the forthright comments by Dimi Mascarenhas, Simon Katich and Jimmy Adams regarding the treatment of Bates and his departure as well as the discussion during the last of the three chapters regarding the direction that Hampshire as a club took around the time Bates was released. Interestingly, as a supporter of the club for many a year one cannot help but agree as one personally feels that the direction that Hampshire have taken in recent times is rather galling.
Perhaps the most enjoyable aspect of Keeping Up though is how different it is to other biographies/autobiographies. The detail and emotion of Bates' struggles and the abrupt conclusion to his professional career are in stark contrast to the formulaic nature of stats, performances and successes that are the usual fabric of such a genre. Also interesting are the technical insights in various chapters, offering the reader a glimpse into aspects of the sport that are likely unknown to most. Of particular note is the stellar list of contributors and interviewees in the book; from current England captain Joe Root to Bates' peers Jos Buttler and Sam Billings to the man that re-defined the role of a modern day wicket-keeper: Adam Gilchrist.
In the final chapters Bates outlines, on a few occasions, that he is at peace with his decision to stop playing professionally, that his burgeoning coaching career has provided him with another role in cricket which he views as a blessing. At the time of writing, Michael Bates is nine months shy of turning thirty. He currently plays and keeps wicket for Wokingham in the second division of the Home Counties Premier League. That he is not playing at first-class level at an age when a sportsperson is arguably at their peak is a sad indictment on English domestic cricket. As a Hampshire supporter who can remember Bates as a player one is pleased that things have worked out well for such a talented gloveman but one still remains massively disappointed that the sport of cricket seems unable to fully appreciate the skill and import of a genuine world class wicketkeeper and that Bates isn't still playing professionally despite his young age. Then again, if he was still playing Keeping Up is unlikely to have been written and one would not be able to enjoy this excellent book with all the differences and nuances that make it a worthwhile purchase.