Jackers – A Life in Cricket
Martin Chandler |
Published: 2012
Pages: 245
Author: Jackman, Robin
Publisher: Pitch Publishing
Rating: 4 stars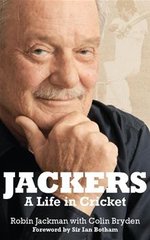 Some reviews are easier to write than others, and this is one of the trickier ones. The predicament is how to introduce Robin Jackman, a man who I began wanting to describe as a journeyman fast medium bowler, but the more I think about it the more I wonder if that is really fair.
What is certainly true is that outside South Africa his name will resonate with few under the age of 40, and those who do recall him will almost always do so because of the stressful start to his brief Test career. He was called up as a replacement for Ian Botham's party in the West Indies in 1981. Within days of his arrival, and before he had sent down a single delivery in anger, Jackman was served with deportation papers by the Guyanese government, putting the continuance of the tour itself in jeopardy. That experience, and the background to it (Jackman's connections with South Africa) do of course figure in this autobiography, but the story is told without rancour, and with the benefit of thirty years sober reflection. It might easily not have been so balanced an account, and it is to the credit of Jackman and his co-writer, South African journalist Colin Bryden, that it is.
The aspect of that tour that has always made me feel slightly uncomfortable is why Jackman was flown out at all, in circumstances where it was clearly an incident waiting to happen. Jackman was already 35 by the time he got the call, although he reminds me that the previous season had seen him take 121 First Class wickets at just 15 runs apiece to be, comfortably, the leading England qualified bowler. He had had an excellent season the year before as well, helped of course, as he readily acknowledges, by having Sylvester Clarke to share the new ball with. But he was never going to be a man for the longer term, and I still wonder whether there was any element of the powers that be wanting to see what happened if they flexed their muscles. If there was then either Jackman has never known anything about it, or he remains admirably loyal, as there is no hint here of the conspiracy theory I had wondered if I might find some evidence for.
Partly by reason of his Guyanese experience, and partly because of his experiences during those winters in which he played in South Africa, the basic story of Robin Jackman's life is rather more compelling than that of most cricketers who play the game at First Class level for the best part of two decades, but achieve just a handful of International appearances. As well as that his childhood, and his time as a young pro trying to establish himself with Surrey, produce many interesting sidelights. The narrative does occasionally jar in the way that it jumps around, but essentially is a well written and nicely rounded account of the whole of Jackman's life rather than just his cricketing one.
After Guyana there is a distinct shift in the way the book is written as it moves from being an account of a playing career to a more rounded autobiography. Still not halfway through, what I regard as part two of the story begins with as insightful and thought-provoking an essay about Ian Botham as I have ever read. It then moves on to a chapter containing some superb anecdotes concerning Jackman's dealings with the rich and famous. I particularly enjoyed a tale about Oliver Reed and Sylvester Clarke, even if aspects of it were not entirely convincing!
Following the conclusion of his career with Surrey, at the end of the 1983 summer, Jackman and his family relocated to South Africa where he became coach at Western Province. He subsequently moved into broadcasting, an endeavour at which he has proved to be every bit as adept as he was at bowling. Around a third of the book is taken up with his post-playing days, and some thoughts on the state of the game today, which for most cricketers might be rather too much. In the case of Robin Jackman however, as all who have heard his commentary will know, he has a seemingly inexhaustible fund of stories and the entertainment seldom flags.
I have to confess to not having originally approached Jackers – A Life in Cricket with too much enthusiasm, but in fact I was rewarded by one of the best cricketing autobiographies I have read. It is disappointing that the book closes without any sort of index or any statistical appendix, and I would certainly much rather it had ended with those rather than a closing chapter penned by Mrs Jackman, but despite that the autobiography of the Shoreditch Sparrow is highly recommended.