It's Your Wally Grout
Archie Mac |
Published: 2011
Pages: 114
Author: Wright, Wally
Publisher: Cricketbooks.com.au
Rating: 3.5 stars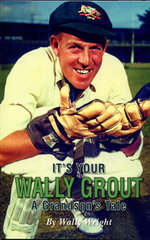 Wally Grout was a man who loved to represent his country so much he continued to play after a heart attack and against the warning of his doctor. Grout's health issues combined with his addiction to gambling and his larger than life personality makes his story one of the most interesting of all Australian Test cricketers. Perhaps only "Chuck" Fleetwood-Smith and Arthur Coningham before and Shane Warne since have provided as much controversial information for cricket writers to explore.
Over the years former players and those associated with Grout have disclosed details of his vices and other issues. In this latest book written by Grout's grandson more light is shed on the "Griz", especially the financial straits he left his wife in when he died at the age of 41.
Despite some new information the author leaves the impression that there are more skeletons in the Grout closet. He does hint that his grandmother was not given the support from all of Wally Grout's former team-mates or employers as previously believed.
The book does not follow the normal biographical pattern of following the subject from one year to the next. Instead the chapters are set out under subjects such as keeping, batting, gambling and touring life. This style does not always work but suits Grout's life and makes for interesting reading. The author's style of periodically writing in the first person is a little off putting as is his strong expression of opinions on most subjects in the book. However these are minor criticisms and if you like your cricketing biographies to be about the man more so than his cricket, you will especially enjoy this publication.
This is a well written and researched book by a talented first time author, about one of the most fascinating characters of Australian cricket and is strongly recommended.
The title It's Your Wally Grout is Aussie slang "for your shout" which means it is your turn to purchase a drink from the bar. A limited edition of just 587 (Grout's first class dismissals) copies with the first 100 signed by the author this is a nice little collectors' item.