I Knew A Man – Victor Trumper
Martin Chandler |
Published: 2020
Pages: 22
Author: Cardwell, Ronald
Publisher: The Cricket Press Pty Ltd
Rating: 4 stars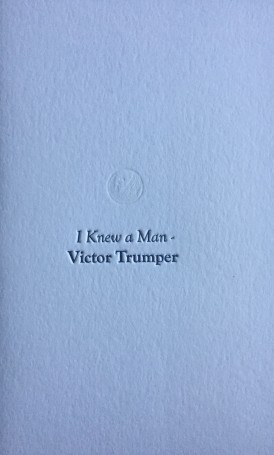 Some might, not without justification, describe this as a vanity project on the part of Ronald Cardwell. In one sense it adds nothing to our knowledge of the history of cricket, or of the lives of the two men with whom it is concerned, but in another it serves as a lasting monument to the man who is surely head and shoulders above anyone else as the game's most romantic figure.
In recent years the stock of Victor Trumper has been on the rise. Cardwell himself is one of those responsible for that, writing and/or publishing a number of books and booklets concerning various aspects of Trumper's life and career. He is by no means alone however, Trumper's highest profile aficionado being Gideon Haigh, but the Trumper star was in the ascendancy long before Haigh published Stroke of Genius in 2015.
But I Knew A Man is not just about Trumper. The legend's long time teammate and skipper Monty Noble, a biography of whom I mention in passing is the single most glaring omission from the literature of the game, is also featured. A little less than half of I Knew A Man is Cardwell's introduction, in which he briefly summarises Noble's cricket career and, more relevantly for his purpose, his later roles as a writer and broadcaster.
The major part of the booklet is then the transcription of a 20 minute radio broadcast that Noble made in June 1936, I Knew A Man – Victor Trumper. The booklet is a compelling read, so to hear Noble must have been a remarkable listen although sadly, as far as I am aware, if the original broadcast were ever recorded no copy remains. Cardwell's source is a contemporary transcript that was originally in the possession of the New South Wales batsmen of the 1930s, Wendell Bill.
A fine writer Noble's prose nonetheless speaks volumes. It is hardly surprising that he thought the world of Trumper, and doubtless he was greatly affected by his tragic passing at the age of 37. What is rather more unexpected is that the grief Noble felt as long as twenty years after Trumper's death remained palpable, his closing words being:-
Thus passed back to the Great Unknown a man I knew, who, above and beyond everything else, was, a man – a man whose like I can scarcely ever hope to meet again.
And so it is that whilst I Knew A Man tells its reader little that he did not already know about Victor Trumper, it does amply illustrate just why he has always stirred the emotions of cricket lovers in the way he does, and will doubtless do in perpetuity.
The Cricket Press Pty Ltd have produced this booklet in a simple, understated format but it is printed on the highest quality paper and contains superb photographic images of Noble and Trumper. It is by no means cheap, coming in at AUS$170, but there are only 48 copies which, given how collectable Trumper is, is not very many. Copies are available from Roger Page.