Driven
Martin Chandler |
Published: 2016
Pages: 221
Author: Lokapally, Vijay
Publisher: Bloomsbury
Rating: 3 stars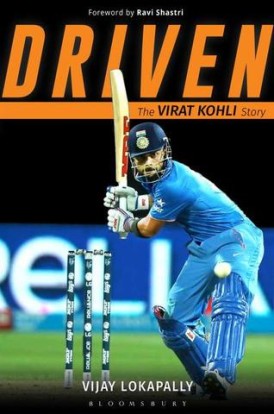 Virat Kohli. As an Englishman my reaction to his name has always been along the lines of 'What is all the bloody fuss about?' After all when he came to England in 2014 he was, to put it kindly, distinctly ordinary. The new superstar of Indian cricket scored a miserable 134 runs in ten innings. Alien as the conditions might have been it was a woeful return for a man who had been talked up the way he had. My impression of Kohli did not change after that, no matter how many runs he scored against Australia.
Fast forward to last week and the first ever Test to be played in Rajkot, the start of a five match series between England and India. Some had predicted a 5-0 win for the home side, and a less than dominant performance from England against Bangladesh did nothing to silence those doubters. In the event England exceeded all expectations, and for a while in the final session harboured hopes of victory. There were centuries from Cheteshwar Pujara and Murali Vijay, both of whom have troubled England in the past, but not consistently enough to cause undue concern. For Kohli there were innings of 40 and 49 not out, both of those however were a source of worry. The Indian skipper shouldn't have got out in the first innings, unluckily hitting his own wicket. In the second innings he carried India to safety, and never really looked like getting out. The look of utter determination made me realise that 2014 must have been an aberration, and that in truth this seemed to be a man who was likely to play a dominant role in this series. Knowing next to nothing about Kohli suddenly became something I wanted to change.
Fortunately for me almost immediately after coming to that realisation a copy of Vijay Lokapally's new biography of Kohli dropped through my letter box. I must admit at the outset that I am no great fan of the concept of a biography of a cricketer, or indeed anyone, who has only just passed their 28th birthday. Kohli has been playing Tests for just over five years. If he has the same sort of longevity of the likes of Sachin Tendulkar and Rahul Dravid he is only a third of the way through his career.
I have picked up a few books like Driven in the past, and rarely got very far with them. The problem is much the same in each case. The young man concerned is always a prodigious cricketing talent. His achievements a result of spending his life working on his game, which rarely leaves much of significance outside cricket. Kohli is no different and as a result Lokapally had a tough job on his hands to hold the interests of those outside the admittedly not insignificant number of Kohli fans who will doubtless hang on his every word.
A journalist for more than 30 years Lokapally has brought all his skills to bear on Driven. Whilst nowhere does the book claim to be an official biography, Kohli himself has been interviewed. Equally important are the contributions of those who have played with him and have coached him throughout his career. Kohli is such a massive figure in Indian cricket that a half hearted attempt at compiling a biography from newspapers and websites would doubtless have sold a healthy number of copies, and it is very much to Lokapally's credit that he has not taken that easy option.
All in all, and bearing in mind the limitations this sort of book always has, Driven is a fine effort. It will appeal not only to the dedicated Kohli fanboys, but also to anyone who wants to know more about the man who has slipped so easily and comfortably into the place in Indian cricket supporters' affections that Sachin Tendulkar occupied for so long. And for those of us hoping against hope for some English success this winter? It's an interesting read, but not one designed to inspire great confidence. I have an uneasy feeling that Mr Kohli is intent on putting the indignities heaped on him in 2014 well and truly in the past.