Don Smith – Sussex and England Cricket – The Entertainer
Martin Chandler |
Published: 2019
Pages: 42
Author: Bennett, David and Epps, Norman and Sharp, Nicholas
Publisher: Sussex Cricket Museum
Rating: 4 stars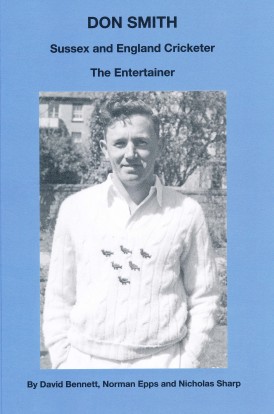 Don Smith played for Sussex between 1946 and 1962. He was an attractive left handed opening batsman and a useful left arm medium pace bowler. Overall his First Class record is that of a journeyman county cricketer, but he had a fine season with bat and ball in 1956, and an even better one with the bat in 1957 when, for the only time, he exceeded 2,000 runs for the summer. His only disappointment would have been his inability to get going when he was picked three times for England against that summer's West Indian tourists.
Today Smith, having relocated to Adelaide in 1986, is an Australian citizen, but he is still the oldest living English Test cricketer and will celebrate his 96th birthday this June. Last summer, to celebrate his his life, The Cricketer published an interview with Smith by David Bennett and Don Smith – Sussex and England Cricket – The Entertainer begins with an essay that amounts to an extended version of that article.
The remainder of the 42 pages are made up firstly of an account of Smith's career, written by Nicholas Sharp and Norman Epps, and a set of statistics prepared by Epps and Roger Packham. Two pages of the latter section are taken up with what I would describe as a traditional year by year set of figures, but by some way the greater part is an interesting season by season look at Smith's performances, drawing out the most interesting aspects.
The writing in Don Smith – Sussex and England Cricket – The Entertainer is excellent, but not for the first time in the Museum's publications a real strength is quality of the illustrations. Amongst some interesting pieces of memorabilia there are some fine images of Smith himself, not least of which is of him walking out to open the innings with Peter Richardson on his Test debut. The highlight however arises out of Smith, in his nineties, being persuaded once more to don his cricket gear and England sweater – even at such a venerable age he looks more like a cricketer than this reviewer ever did, and the expression on his face suggests he still felt completely at ease in his flannels.
The booklet is not cheap, £18 plus postage and packing, but the production standards are well up to the Museum's usual high standards and, naturally, all 'profits' are ploughed back into the Museum anyway. There are 150 copies available, all signed by Smith although, unfortunately, the 'fun and games' that were encountered in getting the 150 title pages out to Australia and back are not elaborated on. Perhaps though it is the sort of story a bibliophile would find painful.