Diary of a Cricket Season
David Taylor |
Published: 1979
Pages: 156
Author: Willis, Bob
Publisher: Pelham Books
Rating: 3 stars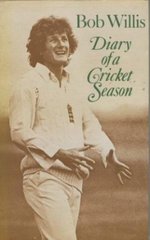 His retirement from the professional game came thirty years ago after a mauling at the hands of the West Indies' batsmen, so many of those who know Bob Willis as a somewhat caustic and lugubrious commentator and summariser on Sky Sports will not remember his career as a fast bowler for England and Warwickshire. But Robert George Dylan Willis – the third name added in tribute to his idol, achieved far more in the game than many would have expected, coming back from more than one career-threatening injury to become only the second England bowler to take 300 Test wickets. To date he is also the only specialist fast bowler to captain England, although his fortunes in that regard were mixed.
We are accustomed to the 'diary' format now, but in 1979 it had seldom been attempted. No 'ghost' is credited, so I assume this is all Willis's own work, notes written at the close of play and perhaps assembled into book form during the tour of Australia which took place in the winter of 1978-79. Willis starts by introducing us to his team-mates at Warwickshire (in marked contrast to today's players, he appeared in no fewer than 12 first-class matches for his county that season) and England, complete with nicknames, just as well as they are used liberally in the book. Who knew that Mike Brearley was known as 'Scagg'? The reason for that is not altogether clear, it seems to have originated with Mike Selvey on their tour of India.
The season itself was not particularly memorable, England proving far too strong for a Pakistan side missing their Packer players and a New Zealand outfit that could certainly have done with Glenn Turner, who elected to play for Worcestershire. Willis led England for the first time, in a match at the Oval that saw David Gower make his first international hundred, and was later embroiled in controversy when a short ball hit Pakistan's night-watchman Iqbal Qasim in the face (the only player in the match to wear a helmet was opener Sadiq Mohammed, watching from the other end). As a senior player at Warwickshire he is also closely involved in the Dennis Amiss saga. The club attempted to sack Amiss in 1978 because of his association with World Series Cricket, a decision that Willis was clearly in agreement with, yet at this remove it seems to make little sense. Surely by making himself unavailable for England Amiss could devote himself 100 per cent to the county? Yet Willis states in a chapter entitled 'The Sacking of Amiss' "I was of the opinion that he could not have his cake and eat it – that he should never be picked for Warwickshire again." The decision was reversed of course, and the batsman played another nine seasons, passing 100 hundreds in the process.
Occasionally there are diversions from the cricket – Bob Dylan was on tour in the UK in the summer of 1978 and the writer, naturally, goes to see him. He also makes rapid progress on the romantic front with a young lady who only appears in his life for the first time that summer. I don't know enough of Willis's personal life to be able to say 'reader, he married her' – but hopefully there was a happy ending.
This is very competently written and does a good job of recalling the 1978 season for those of us who remember it. Bob Willis wrote a few more books, including the obligatory autobiography, but, on this evidence, perhaps he could have ventured further into this area before becoming the 'grumpy old man' of English cricket.