Cricket's Greatest Rivalry
Archie Mac |
Published: 2013
Pages: 304
Author: Hughes, Simon
Publisher: Cassell
Rating: 4 stars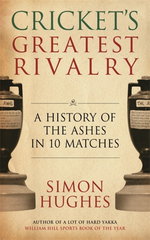 Those familiar with Simon Hughes; A Lot of Hard Yakka and the follow up, the equally amusing Yakking Around the World will appreciate his latest effort, Cricket's Greatest Rivalry, an irreverent history of the Ashes.
Those unfamiliar with the author's cheeky style may find his writing bordering on disrespectful. Although if you can stay with him most people will soon become fans of Hughes, as he takes a refreshing look at cricket's history. While he does have a different and mostly entertaining spin on Ashes history, Hughes is not at his best when writing on pre 1970s cricket. He makes factual mistakes and often only provides arguments from history to support his suppositions.
His writing on the Tests post 1970, finds Hughes at his best, as he knows and/or has played with or against those involved in the matches. This firsthand knowledge of the combatants provides an authoritative account of both the cricket and the feelings of the general public at the time.
The book itself is written more for the English public with many English centric references, and although this bias is noticeable the book will still appeal to Australians. In that vein the ten Ashes Tests covered feature five victories for each country from the first Ashes Test in 1882, to the inexplicable English loss at Adelaide in 2006 after the tourists had declared at 6-551 in their first innings.
The ten matches covered are not the only matches discussed. Hughes provides a discourse on every Ashes series as he moves between each featured Test. So the fine print under the title on the front page "A History of the Ashes in 10 matches" is apt.
A quality read for all cricket fans, whether you know the results of the matches covered or not, you will enjoy the witty and clever style of Simon Hughes.