Cricket's Great All-rounders
Stuart Wark |
Published: 2008
Pages: 312
Author: Meher-Homji, Kersi
Publisher: New Holland
Rating: 3.5 stars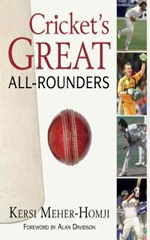 Stuart's Effort
In most team sports there are glamour positions. The full-forward in AFL, the striker in soccer, the quarterback in American Football, the guy who actually pushes the rock in curling (as opposed to the ones who run in front of it with the funny little brooms). Every team wants a dominant person in these keys roles. In cricket, the player every captain wants is a genuine all-rounder. True Test quality all-rounders have been very rare over the years, which merely underlines their immense value. It is, therefore, quite interesting that so few books have ever looked specifically at the great all-rounders of our game. Kersi Meher-Homji has recently released a book, titled 'Cricket's Great All-Rounders' which seeks to redress this gap within the literature.
Kersi is an Australian based cricket author who has written 12 books including 'Dramatic Debuts and Swan Songs', 'Famous Cricketing Families', 'Heroes of 100 Tests', 'Six Appeal' and 'The Waugh Twins'. He has also written extensively for such magazines as Inside Cricket and Inside Sport, and newspapers including Sydney Morning Herald and Sun Herald. Kersi is of Indian Parsi origin and has a link to the Indian national cricket team, being the nephew of former Khershedji Rustomji Meherhomji who played one Test as a wicketkeeper against England at Manchester in 1936.
The advertising material for this book promotes it as the 'first book to profile all-rounders in Tests and in one-day internationals'. There have, of course, been other books about all-rounders in the past, including Cricket: The Great All-Rounders : Studies of Ten of the Finest All-Rounders of Cricket History as edited by John Arlott, The Great All-Rounders by David Lemmon and Australian All-rounders by Marc Fiddian amongst others. However, it is true that there is relatively little written attention paid specifically to the great all-rounders; an interesting fact in light of their undoubtedly value and contribution to their teams.
Kersi presents the book as a series of short profiles on the all-rounders he has personally identified as 'the greatest across three centuries and nine countries'. The profiles are presented chronologically from the early greats of Test cricket such as George Giffen, Aubrey Faulkner and Jack Gregory through Keith Miller and Vinoo Mankad to the modern legends of Imran, Hadlee, Kapil and Botham. Kersi points out early in the book that these are his personal choices, and he recognizes that not everyone will agree. There are certainly some notable omissions, and slightly strange inclusions. W.G. Grace misses out, very possibly due to Kersi's focus upon Test cricket performances, although Grace's Test batting and bowling average of 32.29 and 26.22 respectively compare very well to Giffen's 23.55 and 27.09.
There are other great all-rounders missing such as Warwick Armstrong, Learie Constantine, Wilfred Rhodes, Frank Woolley and Eddie Barlow. The inclusion of some current players such as Daniel Vettori, whose place in the pantheon of Test all-rounders is particularly questionable, at the expense of these legends is an interesting one, but it doesn't ultimately detract from the book.
Kersi deserves credit for including in his book sections specifically on the One Day International all-rounders such as Lance Klusner and Sanath Jayasuriya, as well as the wicket-keeping all-rounders like Les Ames, Farokh Engineer and Adam Gilchrist. I have never understood why wicketkeepers were not considered all-rounders, and Kersi's inclusion in this book has helped to legitimise their status.
I did enjoy reading 'Cricket's Great All-Rounders' . Some of the choices were certainly different to those I would have picked, but one of the signs of a good book is the stimulation of discussion. Kersi's writing style is more functional than lyrical, but the content is never dull. There is little new information presented for those with a strong knowledge of cricket history, but as a summary of cricket's great all-rounders, it meets its brief well. (although if Kersi had seen fit to anoint *Jack Gregory as the greatest all-rounder in history, I may have bumped it up a bit higher).
*Note from Archie: Stuart is currently writing a biography on the first family of Australian cricket the Gregory's, although the above comment suggests he needs a study break! (just kidding Stu)
Archie's Effort
This is visually a beautifully produced book; hardback with copious amounts of colour illustrations, all printed on glossy paper. It will certainly make a handsome addition to any bookshelf.
The writing itself is broken up into three main sections, the first and largest is dedicated to Test all-rounders and covers most of the games finest, with a few lesser players thrown in for good measure. As this is a personal choice of the author and the author in question has been watching the greats since the early 50s (and maybe even the late 40s), it is hard to argue his choice, but how Wilfred Rhodes does not make the Test list is surprising at the least and cricket sacrilege at the worst. Just as well A.A. Thomson is not here to see his hero slighted.
As Kersi Meher-Homji has nothing but respect for the 'old timers', then he must be given the benefit of the doubt, and to his credit he does include: Giffen, Noble, Faulkner, Gregory (Jack), Tate and Hammond, in his selection.
The one that does jump out is his selection of Daniel Vettori, but a quick perusal of his figures suggests that he is imminently qualified for mention as a genuine all-rounder. The figures that are the most impressive to view are those of Jacques Kallis, who on figures alone is the equal of Sir Garfield Sobers, but as the author suggests figures alone do not a legend create, but they certainly make for an interesting comparison.
The second section is dedicated to the far more common contemporary all-rounders the wicket-keeper/batsman. It easy to forget that for a large part of cricket history the wicket keeper was not expected to contribute greatly to the run tally, and as a result only one player from before the war in Les Ames makes the list, although 'Jock' Cameron must be considered a little unlucky to miss the cut.
The third section is dedicated to the new breed; the ODI all-rounder, with the oldest player being Steve Waugh, and the most surprising selection – for the whole book – being Michael Bevan, with only 36 wickets in the One Day game, surely his status as an all-rounder must be a little, if not a lot questionable.
The author writes with a lot of passion and not a little amusement:
On Adam Gilchrist, 'no settling down period for the gregarious left-hander with outstanding talent and ears'.
And on the demise of the batting bunny, 'thanks to limited-overs revolution even a tail-ender is expected to score runs when chasing a target. Hence 'rabbits' are fast becoming an endangered species'.
Kersi Meher-Homji obvious hero worship of certain cricketers and his passion for the game leap off the page at you at every opportunity, and you can't help but be drawn into, and become engulfed in his enthusiasm.
Occasionally the author does not seem to have enough pages to do credit to his subject, this was most noticeable with Jeffrey Dujon, as Meher-Homji just suddenly stops his coverage in almost mid description. The author also has an annoying habit of leaving out linking words such as; 'the' and 'an', but this and the fact he quotes a lot of stats, is a minor criticism.