Cricketer Militant: Life of Jack Parsons
Archie Mac |
Published: 1980
Pages: 125
Author: Howat, Gerald
Publisher: North Moreton Press
Rating: 3.5 stars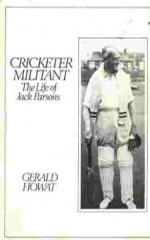 This is the life story of Jack Parsons, one of the many players who luck and timing conspired against to stop them playing Test cricket.
After making the Warwickshire county team in 1911, the young Jack Parsons enjoyed an auspicious start to his first class career, playing in Warwickshire's first ever county championship, although the young tyro was not a big contributor.
In 1914, just as he started to blossom, the 24yo Parsons was one of the first to enlist in the Great War, and it is hard to believe that there has ever been a braver cricketer/solider in the annals of cricket.
After a distinguished war record in which he won the Military Cross, Parsons did not return fully to first class cricket until 1923 (apart from a season in 1919), losing some of his prime years to the armed services.
Faith had always played a large part in the life of Jack Parsons, and in 1929 he became an ordained deacon, dedicating the rest of his life to serving God and church.
At the outbreak of the Second World War Parsons was again in the thick of things but this time as a chaplain. When he died in 1981 Jack Parsons was the last great link with the golden age of cricket.
In typical Gerald Howat style he dedicates as much space to his subjects other fields of endeavour as he does to his cricketing achievements.
This requires a great amount of extra research and understanding of many different vocations, and as always Howat rises to the challenge, to produce a knowledgeable and authoritative biography.