Cricket Kings
Archie Mac |
Published: 2006
Pages: 282
Author: McInnes, William
Publisher: Hachette Livre Australia
Rating: 3 stars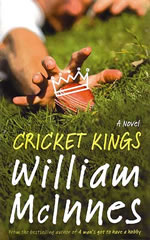 Welcome to the Yarraville West Fourths cricket team – a once proud club where there was competition for places, but now like so many cricket teams around Australia they struggle for numbers.
The struggle to find enough players to field a side falls to their captain, and the main character in the book, Chris Andersen.
Andersen is from a cricketing family; his father played a couple of ODI matches for Australia in the 1980s, and both his elder brothers had gone on to a high standard of cricket.
Unfortunately Chris had never played any higher than a couple of games for the Yarraville West First team, but he still loves the game.
We join Chris the day before Yarraville West Fourths' last game of the season, as he tries to scrape together enough players to form an 11. This involves many surreptitious phone calls from work. In the end he is forced to recruit two players from the under-17s and his own teenage son.
Most of the book is taken up by a description of this final match and of the oval it is to be played on.
We meet a variety of characters that contribute to any cricketing eleven.
These include Livey Jones, the wicket keeper butcher missing the tops of a couple of fingers and having a bad case of the 'Johnny Cash' (burning ring of fire) which causes him to constantly pass wind during the whole match, while Matt Halley is a bowler who likes to perform impressions of famous people from Harold Holt to Elvis Presley. Unfortunately they are two players short and after losing the toss are asked to field. To make matters worst the opposition has a 'ring in' fast bowler from a much higher grade.
That Yarraville West Fourths are going to be thrashed (they have not won a game all season) is never really in doubt, and William McInnes does a fine job of capturing the atmosphere and byplay of the players on the field.
It is, however, the author's ability to relay the thoughts and experiences of his characters that really makes this book an enjoyable worthwhile read.
His description of a conversation between Chris Andersen and his son concerning the suicide of Chris' brother brings tears to your eyes.
He also tackles the issue of racism, showing that although it is not as overtly obvious in Australian society as it once was, but it is however still there and still a real problem, and a blight on the 'Lucky Country'.
William McInnes is a well known and award-winning Australian actor who is best known for his roles in the TV dramas SeaChange and Blue Heelers.
Cricket Kings is his second book and first novel.
I really enjoyed this book, and highly recommend it to both the cricket fan and anyone who enjoys a quality read.