Brief Candles
Martin Chandler |
Published: 2012
Pages: 130
Author: Walmsley, Keith
Publisher: ACS
Rating: 4 stars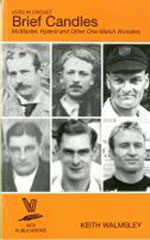 In common with most people one of the more congenial aspects of my working life is my lunch hour. I can often be found, for its duration, sat in my office reading books that I intend to review, especially when the weather is less than hospitable. One colleague in particular has noticed this habit and has a tendency to drop in, in order to keep an eye on my reading material. He has a keen interest in cricket himself so, on occasions, can contribute something useful to my thoughts, particularly if famous players or matches from the 1970s and 1980s are involved. Like many he is much less interested in the more esoteric aspects of cricket literature so I figured, correctly, that Brief Candles would not cause him to linger by my desk for very long.
Anticipating his first question I told him "It's a book about people who have played in just one First Class match". He pulled a face, so I went on ".. there are more than 9,000 of them you know". His frown remained for a few seconds before, knowledge gained through years of trivia quizzes coming to his assistance, he proudly said "You mean like Geoff Hurst?". I had almost finished the book at this stage so was able to immediately confirm that Hurst was not in fact mentioned. With that he turned and left muttering the words "sounds like a bloody pointless book then", and thinking about it I suppose he is right in many ways, but cricket literature is different to that of any other sport, and the fact that this beautifully written book is pointless on some levels does not stop it from being one of the most interesting that I have read in a long time.
Given the identity of the publishers of Brief Candles it would not be unreasonable to expect a simple list of the 9,000 names together with the details of what they achieved or, more realistically did not achieve in their fleeting visit to the game's higher echelons. But fear not those who dread dry statistics as this is Volume 23 of the splendid "Lives in Cricket" series, and as such is essentially a biographical work.
Naturally a full biographical analysis of all of the men who qualify for inclusion in Brief Candles would cause all sorts of problems, not least the mountain of research that would be involved, so what Keith Walmsley does is to dwell at length on fourteen individuals as well as mention in passing a few more. The content is remarkably well researched and it is surprising just how much detail has been discovered about the lives of individuals who by and large are not, by definition, well-known figures. In the past Walmsley has been responsible for that trivia buff's delight, "Most Withouts in Test Cricket" so there is some analysis to go with the narrative.
The first man profiled at any length is Irishman Emile McMaster, whose only match was a Test in South Africa in which he was out for a duck and, for all practical purposes achieved precisely nothing. Some will have heard of McMaster before but only as a result of his curious Test career. Walmsley gives us a fully rounded picture of a man who led a varied and interesting life and, at a less rarefied level, was a decidedly useful cricketer.
The next chapter is about Frederick Hyland, a man who already has a place in cricket literature by virtue of being the subject of an essay by Ronald Mason in Sing all a Green Willow, a splendid volume of cricket appreciation that was published in 1967. In fact it seems that it was that essay that inspired Walmsley's love of this particular area of the game's history, and he has been able to unearth much new material about a man whose sole First Class game lasted precisely twelve deliveries.
At least Hyland got onto the ground. Inevitably in such a large sample there are a number of men who never, thanks to a combination of poor weather and their side batting first, got on to the field of play during their match, and even a few for whom the extent of their involvement was simply to be selected to play in a game that never got under way. Walmsley takes some time to tell the story of one in the former category, a man who had a distinguished career in league cricket, Lancastrian Josiah Coulthurst, who played once for his county in 1919.
At the other extreme are the few who have enjoyed conspicuous success in their single opportunity. In 1915 Australian Norman Callaway made a double century in his only appearance before becoming a casualty in the war to end all wars. Other one match successes, who are dealt with at rather greater length, are Michael Harbottle, who scored 156 for the Army against Oxford University in 1938, and Irish artist Robert Gregory and Englishman Harold Hinde, two of the six men to have bagged an eight wicket haul in one innings in their sole appearance.
The penultimate chapter in the book takes a look at men who took a wicket with their first delivery in their only match and identifies eight of them before Walmsley goes on to look in more detail at a ninth whose right to join the others is not entirely clearcut. The detective work that has gone into reconstructing the life of, and the mystery surrounding the cricket career of Francis Wilkinson, is hugely impressive.
For his final chapter Walmsley looks at Bob Richards, a man who, still playing club cricket at 77, he was for once able to interview for the purposes of the book. Richards moment of destiny came at the age of 36 when he was selected to keep wicket for a strong Essex XI against a touring side from Jamaica in 1970. His story is neither dramatic, controversial or mysterious, but no less interesting for that.
To be fair to my, in my view misguided colleague, I do not suppose that Brief Candles will appeal to many, but to those of us who do like to depart from the well-trodden path in our reading material it really is a very good book indeed, and is highly recommended.