Bradman
David Taylor |
Published: 1996
Pages: 336
Author: Williams, Charles
Publisher: Little, Brown and Co
Rating: 4 stars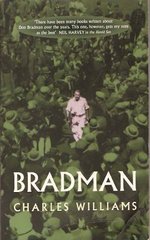 Perhaps uniquely among the Review Team, I had never read a biography of Don Bradman before I picked this one up, although I had read a number of books, like David Frith's Bodyline Autopsy, in which he was a central figure. My reason for not tackling this one before (it was another one of my Dad's, and has been in my possession for several months) was that I felt that the story was already familiar. In fact I was surprised not to see it already in the Reviews section. It is a well-told story of course, at least twice by Sir Donald (as he then was) himself; but those earlier titles are not always easy to come by, and with such an iconic figure I think that a new biography in 1996 was justified.
The name of author Charles Williams may not be familiar to everyone. Although he did play first-class cricket for both Oxford University and Essex, Williams was a successful businessman who was made a life peer in 1985 as Lord Williams of Elvel, and he was thus titled when he began work on this project, the suggestion of his friend Lord (Ted) Willis. Prior to this he had written an acclaimed biography of Charles de Gaulle.
The book is a thorough telling of the Bradman story, going right back to before his birth in fact, tracing the family back to Suffolk, from where his grandfather emigrated in the early 1850s. Don was the youngest of five children, and we are told a little about his childhood and schooldays, along with the familiar tale of the cricket stump and golf ball – I wonder how many budding young cricketers attempted to repeat the exercise in subsequent years.
Bradman grew up, of course, in the shadow of the First World War, (and references to Gallipoli are made regularly throughout the book) and then of the Depression of the late 1920s and 1930s. Williams is highly informative on the sort of struggles faced by ordinary working-class Australians at this time, and it becomes clear that Bradman, as he emerged as the star of Australian cricket, was an inspiration to many who couldn't afford to see him play.
I decided before starting the book that I wanted it to answer a number of questions: How did Bradman deal with the adulation that greeted him on his return from the England tour of 1930? What were his relations like with the media, and with his team-mates? (I already knew something of the antipathy with O'Reilly and Fingleton, two Catholics of Irish descent) What was his view of his son John changing his name to "Bradsen"? (later rescinded) How did he get along with rival, in particular England, captains? All of these are answered to a satisfactory degree, and there is much more besides. Williams takes as much time over the sea voyage on that first trip to England as he does with the 1930 series itself, which seems unbalanced, but that is fine by me – anyone who wants to know more about the Tests has plenty of other material to refer to.
There is a good deal less of Bradman's life post-retirement, but then he was essentially a private individual who never wanted to court publicity. The statement that "the mature Bradman, like the young Bradman, could not understand why those he was with were not as gifted as he" seems unfair however. Bradman's own role in the writing of the book was clearly one of courteous co-operation rather than collaboration, and his own comment, reproduced on the dust-jacket is telling: "it would be stupid to say I enjoyed or agreed with every word, every sentence, and every nuance, but I honestly believe it is a splendid production." Those words were written by a man of 88, his mind razor-sharp, choosing his words as carefully as any lawyer.
I would certainly recommend this to anyone who hasn't read the Bradman story before – and particularly to the younger reader, for whom "the Don" may just be a name from way back in history. This book brings him alive as a person as well as a great cricketer.