Bodyline Autopsy
Stuart Wark |
Published: 2002
Pages: 500
Author: Frith, David
Publisher: Aurum Press Ltd
Rating: 4.5 stars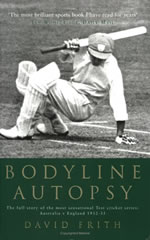 The 1932/33 Ashes contest in Australia was and still is seen by many commentators as the most controversial series of all time. The mere word 'bodyline' conjures up strong images of short pitched bowling to batsmen ducking and weaving to avoid being struck. Bodyline has been the subject of video, a fairly forgettable mini-series, and more words than can be counted. David Frith's offering, Bodyline Autopsy, is another review of the events of this series.
Frith has a long standing reputation as one of the leading cricket writers in the world. He has written over 20 books, and has also edited and worked for many major newspapers and cricket magazines. One of Frith's greatest strengths, and it comes through strongly in this work, is his intimate knowledge of cricket history and his personal relationships with many of the leading players from the past. Frith's research into the Bodyline series takes the time to carefully examine not just the 1932/33 Ashes, but also both the lead-up to that point, and the ongoing ramifications from it. Precedents of intimidatory bowling from quicks such as Jack Gregory in the 1920s, as well as more current examples from the West Indian attacks of the 1980s, are used to balance the recitation of the events of that summer.
Many other books on this topic have suffered greatly from the inherent biases of the writer. Frith has managed to provide a balanced critique of the highly emotional subject, and is to be congratulated for it. He spends each summer living in Australia, before spending the next six months in England. Frith's autobiography is called "Caught England Bowled Australia", and this underlines his shared loyalties between the land of his birth and the new country he subsequently grew up in. It is perhaps this shared background that allows him to take a subjective view of the Bodyline issue, whereas other writers have been blinded by their own singular nationalistic tendencies. The complex events of the series are reviewed and examined, and presented to the reader in a very comprehensive, but still highly readable, manner.
Frith has known and spoken with many of the central figures of the series, and was close friends with both Bradman and Larwood amongst others. This familiarity has given Frith a wonderful insight into the thoughts of the protagonists, and his portraits of the characters are fascinating and well developed. One example of this can be seen in his presentation of the English captain Douglas Jardine. In Australia Jardine is generally thought of as a dour and ruthless bastard, whose win-at-all-costs attitude was simply too excessive. It is to Frith's credit that he manages to both confirm this image, but also to counter it with examples of both Jardine's sense of humour, his courage and his sportsmanship.
Prior to reading it, I must admit wondering what Bodyline Autopsy could provide that previous books hadn't. However, Frith has managed to write the definitive analysis of the series, and it should be part of all serious cricket lovers collections. Very highly recommended, and one of my top 10 cricket books of all time.