Blighted Lives
Archie Mac |
Published: 2010
Pages: 192
Author: Smith, Rick
Publisher: Apple Books Tasmania
Rating: 4.5 stars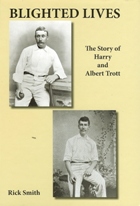 One of the best of the extant cricket writers, Gideon Haigh, once posed the question of where the Australian home grown biographies were. As Sir Donald Bradman seemed to be the subject of every second biography released by an Australian author his concerns were justified. However with the release of Greg Growden's quality book on Jack Fingleton in 2008 and Alf Batchelder's comprehensive two volume biography of Hugh Trumble in 2009 some of Mr Haigh's concerns were allayed.
Now Rick Smith has produced a biography of the Australian brothers Trott which has filled another gap in Australian cricket literature. Smith stated he was inspired to write a biography on the brothers after reading an article titled The Madness of King Harry about Harry's time in Kew asylum written by Gideon Haigh in 2004.
It is one thing to be inspired by an article and another to produce a full and interesting biography. Rick Smith to his credit has managed both. The book, out of necessity, is slanted towards Harry Trott the elder of the two brothers, who had the more extensive Test career, captaining his country and embarking on four Ashes tours to England. However, Albert Trott is certainly not neglected. His rise to the pinnacle as the greatest all rounder in the game, to his fall and eventual suicide is fully covered for the first time.
Albert, as opposed to Harry, has proved attractive to cricketing authors; Jeremy Malies was the last to write about Albert when he dedicated a chapter to him in his classic Characters From Cricket's Golden Age in 2000. Smith has managed, by weight and quality of research to present Albert in a far more realistic light. In the past cricket historians have presented Albert as a simple man, with rare talent, spurred by Australian selectors, forced to ply is trade as a professional in England and who, when his talent deserted him, took his own life.
Although the above for the most part is true, Smith presents Albert as a womaniser and not the simple soul he has been portrayed as in the past. Smith himself informed Cricket Web "In the end I think I would have liked Harry, but I'm not so sure about Albert who seems a less appealing person."
Harry seems to be the nicest of men, with the author finding no negative contemporary opinion regarding him. Smith has also with the use of modern day medical opinion attempted to discover the medical affliction Harry was suffering when he was committed to Kew asylum just months after his greatest cricketing achievement of leading Australia to a four to one Ashes victory during the 1897-98 series.
Smith also covers some other members of the Trott family in particular Harry's eldest son Francis, who deserted his wife and six children – the eldest was ten – for another woman. Perhaps Harry's son inherited some of his Uncle Albert's genes.
Smith points out that the brothers were never particularly close, with no evidence that the two corresponded during the years when Albert was based in England. There is not even evidence of the brothers socialising on Albert's returns to Australia. Still there does not seem to be any indication of bad blood between the brothers.
In the end I think I liked Albert more before reading Blighted Lives. Still, I love my biographies to be warts and all. Throw in some detailed research and you can't go wrong with Rick Smith's quality effort, an extract from the introduction to which he has kindly allowed us to reproduce, and which follows this review. Copies of the book can be obtained from CricketWeb's friend and Australia's number one cricket book dealer Roger Page +61 03 9435 6332.
Rick Smith's next projects are a biography – co author – on the Tasmanian great Charles Eady and a biography on the South African Test cricketer Eric Rowan for the Association of Cricket Statisticians' Lives in Cricket series.
Extract from the Introduction to Blighted Lives
For those who love cricket and dream of being good enough to own a baggy green cap, the idea of not just representing Australia, but of captaining their country, and in a winning Ashes series at that, would seem to be the height of a cricket lover's ambition. This was Harry Trott's achievement.
For those who do not lust for leadership, simply playing for Australia would be more than enough, especially if you help create a victory in your first Test and then go on to a glittering professional career where you are feted as the game's finest allrounder. This Was Albert Trott's achievement.
These brothers were by any standards exceptional cricketers. Harry was a middle order batsman, accurate leg break bowler and outstanding fieldsman, while younger brother Albert was a bowler capable of delivering everything from pace to spin and a batsman able to hit the ball out of any ground. In addition, harry was a wonderful captain, rated by many as the finest produced by Australia to that point, and at his peak the best in the world.
There is more to life than playing cricket, and it was those things outside the game, which initially drew me into the lives of Harry and Albert Trott. While they might have had it all on the cricket field there were other aspects of their lives that begged further investigation. For this author, a suitable subject for a biography must be more than a player. If there is nothing remarkable or unusual in a cricketer's life then any work becomes merely a repetition of matches and statistics. Some aspect or controversy, or simply the living of an interesting life would qualify a cricketer for study.
All of which brought me to Harry and Albert Trott and their life stories. Most with an interest in cricket history would have some vague knowledge of what happened to them. They would know that in desperate poverty Albert committed suicide in his London boarding house and that for a time Harry was an inmate of Melbourne's Kew Asylum, and while he re-emerged to play cricket again, he was never the same, and he too died at a relatively young age. What kind of background did they come from, what took them to the pinnacle of the game and even more importantly, what destroyed them?
So here are Harry and Albert's stories. Perhaps they are not what people expect, but they are fascinating tales all the same. Parts are uncomfortable to read, because we find it hard to see sporting heroes in such terrible despair and we will always lament lives that have been cut short and not allowed to reach fruition.