Barclays World of Cricket
David Taylor |
Published: 1986
Pages: 724
Author: Swanton, EW
Publisher: William Collins Sons & Co Ltd
Rating: 4 stars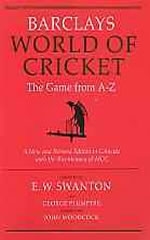 It's hard to know where to begin with a book like this, really – it's basically an encyclopaedia of the game. EW (Jim) Swanton, with co-editors John Woodcock and George Plumptre, put the first (now hard to find) edition together in 1966, brought out a second in 1982, and there was a third (and final) edition four years later. This, the cover proclaims, is 'a new and revised edition to coincide with the Bicentenary of MCC.' In a way it's easy to see why this never really took off as a work of reference; it's 724 pages long and weighs around 5-6 lbs (so you'd be looking at some serious postage), so it's not something of which you'd want several editions lined up on the shelves. Yet on its own, it's perfect. Of course every cricket reference book is out of date after a while, at least as far as the records go – there's no mention in here of Brian Lara, Shane Warne or Sachin Tendulkar – but as far as the story of the game up to 1985, it's all here.
The introduction by General Editor EW Swanton states: "The purpose behind the 3rd edition of this book remains as I wrote when introducing the 1st edition 20 years ago: it is to satisfy anyone anxious to extend his or her general knowledge of cricket and to provide them with some entertaining, worthwhile reading in the process." While none of us might be 'anxious' to extend our cricket knowledge this is the perfect book for someone who doesn't have an extensive cricket library or a long run of Wisdens. It is fairly Anglo-centric – roughly a third of its content is concerned with English cricket. The minor counties, leagues and schools each receive more coverage than any of Australia's State sides, for instance, where we can be sure the standard of cricket is somewhat higher. But that is Swanton's influence at work, and he is hardly the first of the English cricket establishment to mis-prioritise: for years public school cricket in Wisden received coverage out of all proportion to its importance.
Where the book scores for me is its selection of writers: Scyld Berry, Rex Alston, Tony Cozier, Ian Peebles and David Frith to name but a few. And Trevor McDonald, writing on the Packer affair! There is also a wonderful section towards the end, the 'Treasury' – dealing with such diverse subjects as Night Cricket (Vic Marks), One Cricketer's Year (Peter Roebuck), cricket eccentrics, broadcasting and of course Wisden Cricketers Almanack itself. The book is generously illustrated throughout (only in black and white, though) and each of the notable figures of the game has his career record (Test and first-class) appended to his biography. There are no glaring omissions as far as I could see. Perhaps the history of the game before the arrival of WG Grace is sketched over somewhat – in only 12 pages or so – but then there is little in the way of contemporary writing on cricket from the early days, and there are books available for those interested in that era.