Australian Cricket the Game and the Players
Archie Mac |
Published: 1988
Pages: 1231
Author: Pollard, Jack
Publisher: Angus and Robertson
Rating: 4.5 stars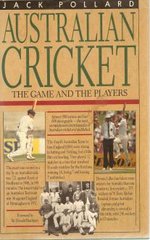 Not too sure just how many people have read this tome apart from myself (I have read it twice, which I can admit safely amongst fellow cricket tragics, knowing I will not be ridiculed) but I imagine almost every author writing on the history of Australian cricket has at least consulted it.
It is rumoured that a couple of the current leading writers on Australian cricket believe some of authors Pollard's research is unreliable. Certainly his prolific output tended to translate into factual errors in early books being perpetuated in later offerings.
Still Pollard made many discoveries in his research. An interesting one in this book is Archie Jackson only having one Christian name. Old score cards show him as A.A. (Archibald Alexander) Jackson. Apparently his humble origins led to Jackson feeling intimidated by those in first class cricket with multiple Christian names, especially those such as H.S.T.L (Stork) Hendry.
Speaking of "Stork" Hendry, when the second edition of this book was released in 1988 he was the oldest living Australian Test cricketer (he died later that year). At that time Hendry maintained Charlie Macartney was a greater batsman then Bradman. These comments on the back of a Jack Fingleton anecdote told to Michael Parkinson (I shall have to type it out for our readers to enjoy – one day!) left me a Bradman questioner from a young age.
The second edition sported a new dust jacket design but somehow despite featuring Lillee and a pic of the first Ashes eleven, it did not capture the spirit of Australian cricket as that of the first edition. Perhaps Pollard should just have kept the "Cricketers" by Russell Drysdale as his front cover, still the picture that captures grass roots Aussie cricket; the fact it was rejected by Lords only makes it all the more quintessentially Australian (we have featured the second edition cover in this review).
The book itself is set out in alphabetical order and contains an entry on every Australian Test cricketer, plus many who never wore the baggy green, and some who never even came close.
Being published in 1988, when the Australian team under the captaincy of Allan Border was still considered one of the worst teams in Australian cricket history, makes for some interesting pen portraits. The single entry on the Waugh family before Mark had commenced his Test career makes mention of the fact Mark was more likely to turn a start into a big score compared to his brother Steve. The latter was, at the time also considered a better ODI player then a Test player.
Although Jack Pollard has been deceased for a number of years, it still seems overdue for an update of this; one of the most significant books written on Australian cricket.